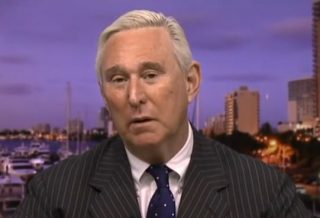 Several state Democratic parties have filed lawsuits alleging that actions and statements made by Donald Trump's campaign, the Republican National Committee, and Trump advisor Roger Stone violate the Voting Rights Act of 1965 and the Ku Klux Klan Act of 1871. They claim that the defendants' plans to get people to monitor poll sites to combat voter fraud amount to illegal intimidation. Among these plans, the Democrats refer to Stone's Stop the Steal operation, which they are looking to shut down.
Stop the Steal looks to recruit people to show up at polling sites as "Vote Protectors." These people are asked to conduct "a uniformed exit poll" to make sure that the reported election results are consistent with what they are seeing in their polls. The site says that the polls are aimed at "maintaining the integrity of our electoral process." But, the Democrats don't want this to happen.
As part of the Arizona Democratic party's lawsuit, they filed a report by public opinion researcher Mark Mellman, who cast doubt on Stop the Steal's ability to carry out exit polls at the standards maintained by other polls, usually conducted by the media. Mellman wrote that the polling system that Stone has in place "is not in keeping with the accepted methodology, purpose, or practices in this field." He also accuses Stone of not having the purest of intentions. "Given Mr. Stone's stated political biases and the methodology he has employed—i.e., targeting Democratic and minority precincts—his exit polling strategy appears only designed to intimidate voters in an attempt to influence the election and suppress the vote."
It should be noted that Stop the Steal's website only advocates the polling of voters after they have submitted their ballots, and does not indicate or encourage intimidation practices or interactions with voters on their way to the polls. Nevertheless, the lawsuit alleges that "Stone has a history of engaging in voter intimidation, racist and misogynist hate speech, and incitement to violence."
Stone, who has worked in the political sphere since being part of the Nixon administration in the 1970s, said in a statement to LawNewz.com:
Enough with the grandstanding. Mellman is a partisan Democrat. Why would the court (or anyone) believe their opinion. This is the height of elitist arrogance. Why do they so fear a scientifically conducted exit poll to be compared with actual reported results[?]
The state Democratic party filed a motion for a preliminary injunction, which, if granted, would force Stone to cease his operations while the case is still pending. U.S. District Judge John J. Tuchi ordered on Wednesday that a hearing will be held over the injunction before he makes a decision.
[Screengrab via Fox Business]
Have a tip we should know? [email protected]