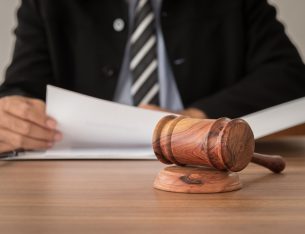 A newspaper investigation into one of the top law firms in the country for political donations to Democratic candidates has spurred the filing of a FEC complaint by the Campaign Legal Center.
A Boston Globe investigation into political donations from the Thornton Law Firm uncovered a pattern of "bonus" payments made to partners that exactly equaled the amount of a partner's monetary contribution to a political candidate.
The Campaign Legal Center filed a complaint with the Federal Election Commission that argues the "bonus" payment system allowed Thornton to make donations to candidates and political committees well above legal contribution limits.
"The FEC must investigate this scheme," Brendan Fischer, associate counsel of the Campaign Legal Center, said in a statement obtained by LawNewz.com. "Thornton employees made contributions to these campaign and were promptly reimbursed by the firm, allowing the firm to collectively give far more to individual candidates in a single year than the firm could have donated directly under federal law. This appears to be a clear violation of the law and the FEC should take this seriously."
According to the Globe's investigation, reporters found more than 280 examples where political contributions exactly matched bonuses paid to law firm partners.  For example, law firm records from 2010 reportedly show partner David C. Strouss received a "bonus" payment for $2,400 from the firm on the same day that other records show Strouss donated $2,400 to the campaign of Montana Senator Jon Tester.
The CLC complaint alleges Strouss, and Thornton partners Michael Thornton and Garrett Bradley knowingly permitted their names to be used for straw donor contributions, in violation of federal campaign contribution laws and regulations.
In light of the Globe's report, a number of Democratic candidates in high profile Senate races have taken steps to return contributions they received from the law firm.
UPDATE:
Brian Kelly provided a statement to LawNewz.com on behalf of the Thornton Law Firm on Wednesday afternoon:
"[T]he Thornton law firm has complied with all applicable laws and regulations regarding campaign contributions. Ten years ago, it hired an outside law firm to review how it wanted to handle donations to politicians. It was given a legal opinion on how it should structure its program and then it hired an outside accountant to review and implement the program. It was a voluntary program which only involved equity partners and their own personal after tax money to make donations. It is unfortunate this was not made clear in the complaint . . . ."
[image via create jobs 51/shutterstock]
Have a tip we should know? [email protected]