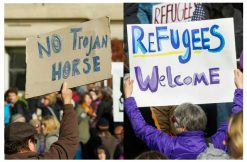 The battle over a reported "Muslim registry" gets underway in Congress.
On Thursday, Sen. Cory Booker (D-New Jersey) introduced a bill that seeks to stop such a thing from happening. According to his press release, it would "block the establishment of a registry of people based on their religion, race, age, gender, ethnicity, national origin, or nationality." Eight other Senators are co-sponsoring, including Bernie Sanders (D-VT), and Elizabeth Warren (D-MA).
President-elect Donald Trump's controversial immigration plan was a huge talking point during the campaign. One aspect of this was a so-called "Muslim registry."
A NBC reporter asked him in November if he wanted a database to track Muslims nationwide.
"Oh, I would certainly implement that," he said, speaking in terms of his immigration policy. He later added, "The key is people can come to the county, but they have to come in legally."
Then there's the matter of Kris Kobach, the Secretary of State of Kansas. He told Reuters in November that he would ask Trump to resurrect the National Security Entry-Exit Registration System (NSEERS). He has in fact already met the President-elect in person, though he still doesn't have a White House job.
The NSEERS, which was active from 2002 into the latter-half of Obama's first term—put visitors and immigrants to the United States on a database if they came from countries with extremist organizations. Incidentally, 24 out of the 25 nations on the list were predominantly Muslim.
Officials said in 2011 that this program (which would be illegal under the bill because it singles out people from certain nations) only ended because it was "redundant, inefficient and unnecessary." The Department of Homeland Security announced in December that they'd finally dismantle the program's remaining framework.
[Composite of images from Boise, Idaho on November 21, 2015 via txking and Shutterstock; left depicts protester against Syrian refugees coming to the U.S.; right depicts a protester in Boise, Idaho who supports them. Syria was one of the nations on NSEERS.]
Have a tip we should know? [email protected]