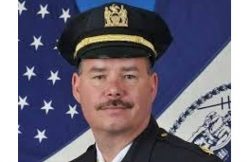 One NYPD police captain say he hopes to do more for rape victims—and then said he wasn't worried about most allegations.
Captain Peter Rose leads the 94th Precinct in Greenpoint, Brooklyn. That's where there's been 13 reported rapes and attempted rapes in 2016. That's up from eight the year before, and DNAinfo reports this had led to three arrests. The spike in reports led some residents to get worried, but Rose reportedly dismissed most reports when the issue came up
"Every rape should be investigated," he told DNAinfo on Wednesday. "I wish we could do more. It really becomes a balancing act for the investigators. Some of them were Tinder, some of them were hookup sites, some of them were actually coworkers. It's not a trend that we're too worried about because out of 13, only two were true stranger rapes." And he said more at a Community Council meeting later on Wednesday. "They're not total abomination rapes where strangers are being dragged off the streets. If there's a true stranger rape, a random guy picks up a stranger off the street, those are the troubling ones. That person has, like, no moral standards."
We've reached out to the NYPD for comment.
Rose's account clashes with research on the subject. The Rape, Abuse & Incest National Network (RAINN) took a look at Department of Justice stats, and found that 7 out of 10 perps of sexual violence already knew the victim. According to a 2012 report from the Centers for Disease Control and Prevention, only 13.8 percent of female rape victims are assaulted by strangers. That number is 8.2 percent for men.
[image via New York City Police Department 94th Precinct]
Have a tip we should know? [email protected]