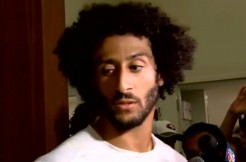 Colin Kaepernick's protest of "rogue cops" has gotten some new blowback. On Friday, The Santa Clara Police Officers Association said some of their officers may refuse to work security at games for The San Francisco 49ers.
The union said it's because the quarterback has been disrespectful against cops, according to a letter obtained by NBC Bay Area. This actually involves his choice of socks. He's been seen wearing a pair that depicts officers as literal pigs.
"The 49ers are allowing this to come out from an employee and it's making for a hostile work environment for us at the stadium," Union President Frank Saunders told the outlet.
The team opens their season with a September 12 home game. The Santa Clara Police Department takes the lead in moonlighting as stadium security: They usually make up two-thirds of the 70-person team. Saunders said if they refuse to work the games, the team might still hire other cops, but this may violate a contract with the union.
Kaepernick became infamous in late August for refusing to stand for the national anthem: He is protesting police brutality against people of color. Controversy swirled higher when pictures surfaced of him wearing the aforementioned pig socks to team practice. He said that it was to protest "rogue cops."
Now the union wants the 49ers to take "corrective actions" to stop Kaepernick's protest. If the team follows through, they'd be doing a 180. They're press releases have seemed very supportive.
We've reached out to the police union for more clarification, and we'll update if we hear back.
[Screengrab via Inside Edition]
–
Follow Alberto Luperon on Twitter (@Alberto Luperon)
Have a tip we should know? [email protected]