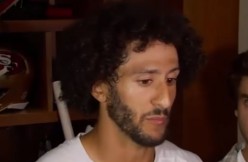 Some details make more sense in retrospect. During three practices in early August, NFL quarterback Colin Kaepernick wore socks depicting pigs in police officer hats. The fashion choice makes a lot more sense now that he's publicly refused to stand up for the national anthem.
Check out the socks here:
Colin Kaepernick is now wearing socks depicting the police as pigs. pic.twitter.com/C1D809YSR2

— Philip Lewis (@Phil_Lewis_) September 1, 2016
Kaepernick took to Instagram after the story broke on Thursday, pointing out that he has relatives who are police. He's simply distraught by "rogue cops":
Kaepernick, who plays for the San Francisco 49ers, became infamous when he publicly refused to stand for the national anthem.
"I am not going to stand up to show pride in a flag for a country that oppresses black people and people of color," Kaepernick told the NFL. "To me, this is bigger than football and it would be selfish on my part to look the other way. There are bodies in the street and people getting paid leave and getting away with murder."
These comments have been divisive, to say the least. Instagram commenters have called him an "ignorant f—k," "jacka—," and made fun of his football skills. Minnesota Vikings offensive lineman Alex Boone, whose brother is a veteran, called his protest of the national anthem "shameful." Some, like film director Spike Lee, have publicly supported him though. He's also gotten some high-profile backup from a surprising source. The hashtag #VeteransForKaepernick trended on Thursday.
[h/t The Sacramento Bee]
–
Follow Alberto Luperon on Twitter (@Alberto Luperon)
Have a tip we should know? [email protected]