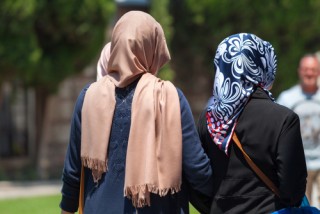 The civil rights trial against an employer who allegedly discriminated against Muslim women began on Monday. According to a lawsuit brought by five Muslim women through the Equal Employment Opportunity Commission, Jetstream Ground Services did not allow female Muslim employees to wear headscarves or other clothing that their religion requires, the Denver Post reported.
The case is being heard by U.S. District Court in Denver, after originally being brought to the EEOC by Safia Abdulle Ali, Sahra Bashi Abdirahman, Hana Bokku, Sadiyo Hassan Jama, and Amino Warsame. They claim that Jetstream fired, lowered pay, and refused to hire religious Muslim women.
Jetstream denies the allegations. Their lawyer, Raymond Deeny, claimed that the company had to lay off employees after losing a contract with Denver International Airport. Deeny insisted that his client does not discriminate against women. He said during his opening statement that the layoffs had nothing to do with headscarves, and that "[t]he highest percentage of people we hire are of Ethiopian heritage."
Deeny also said that Jetstream offered to rehire the plaintiffs twice, but only one of them accepted.
The lawsuit claims that prior to Jetstream taking over ground services at the Denver airport, Air Serv Corporation allowed Muslim women to wear religious headscarves and long skirts. When Jetstream  replaced Air Serv in 2008, they allegedly told them women could only wear the company uniform, which consisted of tan pants, a green shirt, a vest and a cap bearing the Jetstream logo.
Former manager Diana Martinez testified that she received between 60 and 100 complaints about the rule against wearing headscarves. She also said that when she hired people, she had to tell them they were not allowed to wear headscarves.
According to a statement from the EEOC when the suit was filed with the District Court, they Commission attempted to reach a settlement with Jetstream prior to bring the case to court.
[h/t Denver Post, image via Shutterstock]
Have a tip we should know? [email protected]