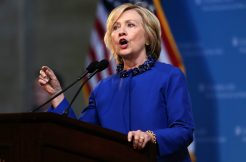 Retired FBI agents are blasting Director Jim Comey over the investigation into Democratic presidential nominee Hillary Clinton, according to a Thursday opinion piece in The New York Post.
"Comey has single-handedly ruined the reputation of the organization," former agent Michael M. Biasello told the outlet. He claimed that accommodations given the Clinton and her aides was "unprecedented," suggesting, "which is another way of saying this outcome was by design."
Clinton was being investigated by the feds for her mishandling of work-related emails as Secretary of State, but in July, Comey declined to recommend charges. He said that although Clinton and her aides were "careless" in their handling of classified information, his people didn't find evidence that they'd actually violated any laws.
Not surprisingly, certain critics immediately pounced on how the FBI conducted the investigation. Reports of deals Clinton and some of her staff made with the feds included granting immunity in exchange for access to a chief of staff's laptop; and immunity to the tech employee who deleted Clinton's subpoenaed emails. Also, agents signed a nondisclosure agreement (though a retired agent even told Fox News in July that such a thing was hardly unique to this investigation).
Other former agents joined Biasello to skewer Comey in the Post's port: I.C. Smith, and Dennis M. Hughes, reportedly the first-ever chief of the computer investigation unit.
"The FBI has politicized itself, and its reputation will suffer for a long time," Hughes said. "I hold Director Comey responsible." Who is doing the politicizing here, will remain a subject of debate.
[image via Trevor Collens and Shutterstock]
–
Follow Alberto Luperon on Twitter (@Alberto Luperon)
Have a tip we should know? [email protected]