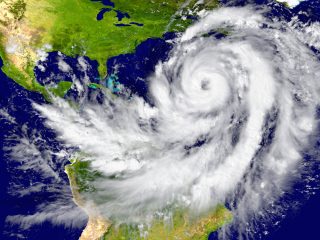 In preparation for Hurricane Matthew, a state of emergency has been declared in North Carolina, South Carolina, Georgia, and Florida, with many areas in those states being subject to mandatory evacuations. During the storm, there are people, however, who might choose to ignore the orders to evacuate so they can stay at home. Can you get in trouble for this? Can you get arrested? Well, it's certainly not a good idea. If anyone is considering remaining in an evacuation zone, maybe this will convince them otherwise.
North Carolina
North Carolina law allows for the governor to "direct and compel the evacuation of all or part of the population from any stricken or threatened area within the State" during a state of emergency. Governor Pat McCrory has declared a state of emergency throughout North Carolina, with residents of Hyde County and students of University of North Carolina-Wilmington being ordered to evacuate by Thursday. Anyone who violates an evacuation order can be charged with a class 2 misdemeanor, which can be punishable with up to 30 days of confinement, probation, or community service, and that's just for people with no criminal record. It can go up to 60 days depending on prior offenses.
South Carolina
Governor Nikki Haley ordered evacuations for Charleston and Beaufort Counties and neighboring areas, with the South Carolina area expected to be hit hard by the storm. Zones in Jasper, Colleton, Dorchester, Berkeley, Horry, and Georgetown Counties were also told to prepare for evacuation (click here to determine which zone you are in). President Barack Obama declared an emergency for the state Thursday night. In South Carolina it is against the law to disobey the lawful order or direction of a law enforcement official during a state of emergency. Violators can face up to 30 days of imprisonment and a fine of up to $100.
Georgia
Governor Nathan Deal ordered evacuations in Bryan, Chatham, Liberty, McIntosh, Glynn and Camden Counties. While Governor Deal said that the government "will not drag anyone out of their house against their will," residents are urged to follow orders. On Thursday, Savannah Mayor Eddie DeLoach said, "If you decide to ride it out, do not expect us to be there to help you."
While officials may not force people to move, Georgia law does say that it is a misdemeanor to refuse to obey the "reasonable official request or order of a peace officer or firefighter to move" during an emergency, if they are working to promote public safety. In Georgia, misdemeanors are punishable by up to a year in jail and fines up to $1,000.
Florida
Florida law allows the governor of the state to enforce emergency rules and regulations. However, it's a little unclear as to how those rules and regulations would be enforced. Mandatory evacuations have been ordered in many counties, and Governor Rick Scott has called upon state officials and the National Guard to assist. People who refuse or neglect to aid officers who are trying to preserve the peace can be charged with obstruction, but it's unclear if that would apply in this situation.
Whether or not Florida residents can face criminal penalties for not evacuating, they have been warned not to remain in dangerous areas. Governor Rick Scott has issued a strong caution to anyone who might disobey the order. "Do not surf. Do not go on the beach. This will kill you," he said at a press conference on Thursday. "There is no reason not to leave."
Regardless of criminal penalties, all residents of these states are strongly encouraged to obey state orders during an emergency. While leaving home may be inconvenient, the most important thing is to stay safe.
[Image via Shutterstock]
Have a tip we should know? [email protected]