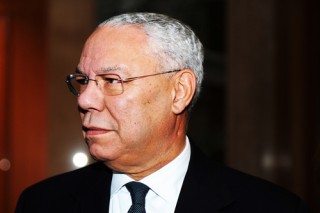 Another day, another hacking scandal: On Thursday night, DCLeaks, a "hacktivist" website that reportedly has ties to Russia, offered up emails from the personal email account of former Secretary of State Colin Powell. Powell's emails had been of particular interest as of late thanks to Hillary Clinton pointing to him as the inspiration for her use of a private email server during her own term as Secretary of State, a claim he was none too pleased about.
According to a report from The Intercept, one of the outlets to get the emails, Powell told one acquaintance that the "sad thing" about the situation was that "[Clinton] could have killed this two years ago by merely telling everyone honestly what she had done and not tie me to it." He had to ask more than once before I could even get the Clintons' attention: "I told her staff three times not to try that gambit. I had to throw a mini tantrum at a Hampton's party to get their attention. She keeps tripping into these 'character' minefields," He also stated that he didn't remember an alleged dinner conversation with Clinton where she claimed he suggested the use of a private server.
An email chain between Clinton and Powell related to the topic later surfaced. While it did appear that Powell was telling Clinton how to keep certain messages from being public record, he also very clearly does not tell her to do anything close to what she ended up doing. In another email, this one to business partner Jeffrey Leeds, he further elaborated on the differences between what he did (use his personal AOL account for non-classified messages) and what Clinton did…and why he had other reasons to be angry at her:
They are going to dick up the legitimate and necessary use of emails with friggin record rules. I saw email more like a telephone than a cable machine. As long as the stuff is unclassified. I had a secure State.gov machine. Everything HRC touches she kind of screws up with hubris. I told you about the gig I lost at a University because she so overcharged them they came under heat and couldn't any fees for awhile. I should send her a bill.
That second one isn't quite as important, but you can see why he feels like it all keeps being piled on top of him.
Have a tip we should know? [email protected]