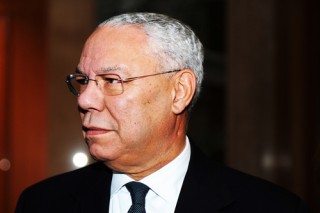 We finally have the full exchange between Hillary Clinton and Colin Powell over his use of private emails while serving as Secretary of State. Last week, it was revealed that Clinton told FBI agents  hat it was Powell who advised her to use private emails.
He didn't exactly tell her to set up a private server, but you can see why Democrats would want this memo released. The Powell email came after Hillary Clinton wrote former Secretary of State Powell about his use of private email. She was just taking on her new role as Secretary of State. In the January 23, 2007 memo, she said she had "one pressing question only you can answer."
She continued, "What were the restrictions on your use of your blackberry? Did you use it in your personal office? I've been told the DSS personnel knew you had one and use it but no one fesses up to knowing how you used it. "
The full exchange, which was released by Rep. Elijah E. Cummings, Ranking Member of the House Committee on Oversight and Government Reform, is embedded below:
Colin-Powell-Hillary-Clinton-Email-Exchange (Text)
In a statement, Cummings wrote that "This email exchange shows that Secretary Powell advised Secretary Clinton with a detailed blueprint on how to skirt security rules and bypass requirements to preserve federal records, although Secretary Clinton has made clear that she did not rely on this advice." He added that "If Republicans were truly concerned with transparency, strengthening FOIA, and preserving federal records, they would be attempting to recover Secretary Powell's emails from AOL."
In the email in question, Powell seems to admit in his reply back that he used his device in his "suite" against the advise of intelligence officials. He also doesn't appear to think the "signal" from a cellphone is any different that the "signal" from a television remote control. Powell writes:
And the issue was DS would not allow them (PDAs) into the secure spaces, especially up your way. When I asked why not they gave me all kinds of nonsense about how they gave out signals and could be read by spies, etc. Same reason they tried to keep mobile phones out of the suite. I had numerous meetings with them. We even opened one up for them to try to explain to me why it was more dangerous that say, a remote control for one of the many tvs in the suite. Or something embedded in my shoe heel. They never satisfied me and NSA/CIA would't back off. So, we just went about our business and stopped asking. I had an ancient version of a PDA and used it. In general, the suite was so sealed that it is hard to get signals in or out wirelessly.
Powell also advises Clinton that if she does business on her blackberry it might become an "official record." He added, "I got around it all by not saying much and not using systems that captured the data."  Who knew this was the beginning of so much trouble?
Have a tip we should know? [email protected]
Rachel Stockman - President / On Air Host