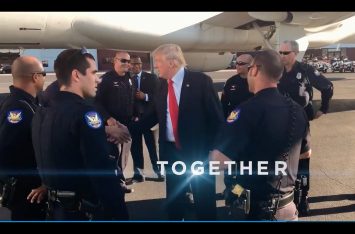 The city of Phoenix sent a cease-and-desist letter to Donald Trump's presidential campaign demanding the removal of a portion of a campaign television advertisement that includes uniformed, on-duty Phoenix police officers.
In a letter obtained by the Arizona Republic newspaper, Phoenix City Attorney Brad Holm accuses the Trump campaign of violating federal and state law by using copyrighted material in a campaign advertisement.  Specifically, the letter refers to the presence of police uniforms, including "the badge and insignia patches" that "belong to Phoenix and constitute protected intellectual property of the City."
"Phoenix has not approved — and will not approve — the creation or use of any media bearing the faces and likenesses of its on-duty police officers in any political advertisement for any political candidate," Holm wrote in the letter.
WATCH:
The advertisement in question called "Movement" contains a very brief snippet of approximately six uniformed Phoenix police officers that Holm claims were on-duty at the time the video was taken.  According to the newspaper, the clip appears to be from Trump's visit to the city in June before he spoke at the Arizona Veterans Memorial Coliseum.
The letter states, "The officers depicted in the ad were in uniform precisely because they were on duty performing work for Phoenix at the time. In this context, the ad unmistakably and wrongfully suggests that Phoenix and the officers support or endorse Mr. Trump's campaign."
According to the newspaper, the city of Phoenix has a strict policy that prohibits city employees from "endorsing a candidate in an advertisement while they are on duty, wearing a city uniform or on city property." There is no prohibition against police officers or other city employees endorsing a candidate on their own time, however.
The letter concludes with a warning that the city is prepared to move forward with legal action if the Trump campaign does not immediately remove the advertisement.
"The Phoenix City Manager has authorized me to pursue all legal remedies necessary to stop the Trump campaign from using the city's intellectual property.  The remedies include both equitable and legal relief."
Ken Crane, president of the Phoenix police union, suggested to the newspaper that he believes the letter was written more as a warning to ensure additional advertisements did not use city employees.
"They're trying to cover themselves, if you will," Crane told the newspaper. "Quite frankly, I think they would do the same thing if Clinton's campaign was doing that, or at least they should."
While that may be the case, the city may have a legitimate claim over the appearance of the police department badges in the advertisement.  Generally speaking, cities and municipalities are prohibited from obtaining trademarks or other forms of intellectual property protections on flags, officials seals or a coat of arms.  But that prohibition generally does not apply to city department logos.
Have a tip we should know? [email protected]