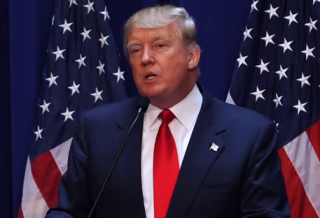 New York Attorney General Eric Schneiderman's office lost their motion for summary judgment, which would have given them a victory over Donald Trump's Trump University, but the case will move forward, Politico reported. Schneiderman's consumer fraud chief Jane Azia argued that there was "extensive evidence in the record already to demonstrate respondent engaged in fraud," and that there were no factual issues left for a trial. Judge Cynthia Kern disagreed.
A spokesman for Schneiderman's office said they will release a statement soon.
Trump's lawyer, Jeffrey Goldman, said he thinks he will get a fair jury trial, and said there are currently no negotiations to settle. Trump may be forced to testify in a trial that could begin before November's election.
Updated 5:15 pm 04/26/2016
From the Trump organization's legal team:
"We are extremely pleased that the Supreme Court has yet again rejected the Attorney General's attempt to avoid a trial. Although there are several procedural matters that remain open, we do not understand why the Attorney General objects to the jury trial we have requested; especially where the Attorney General purports to represent the very people of the City of New York it fears will decide his claims."
From Attorney General Eric Schneiderman's office:
"I am very pleased the judge has indicated her intention to move as expeditiously as possible to trial, as thousands of Mr. Trump's alleged victims have been waiting years for relief from his fraud. We believe that Mr. Trump and Mr. Sexton will be essential witnesses at trial. As we will prove in court, Donald Trump and his sham for-profit college defrauded thousands of students out of millions of dollars."
Have a tip we should know? [email protected]