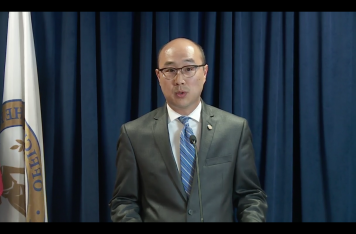 Ramsey County (MN) County Attorney John Choi held a press conference on Friday to announce new details about the investigation into the shooting death of Philando Castile.
Castile was shot by a police officer during a traffic stop on July 6 and his girlfriend posted a disturbing video of the aftermath of the shooting online.  The video quickly went viral and led to protests across the country.
The ACLU and the Castile family have issued calls for the appointment of a special prosecutor to takeover the handling of the case.
Choi announced on Friday that he would not turn the case over to a special prosecutor.  However, he did announce that he would appoint Don Lewis as a special prosecutor to join the investigative team.  Choi said the decision was made in an effort to "enhance the team" and provide an independent voice as the probe goes forward.
Lewis is reportedly an experienced attorney who spent years in the Justice Department.  One of the key decision Lewis will help determine is whether the County Attorney will present the case to a grand jury or make a determination on how to proceed on their own.
LawNewz.com will update this story as more information becomes available.
UPDATE:
KARE11 reports Lewis is longtime civil rights attorney and the former dean Hamline University's School of Law.  Lewis also previously spent time working as an assistant U.S. Attorney for Minnesota and now works full-time for a law firm he founded, Nilan Johnson Lewis PA.
Have a tip we should know? [email protected]