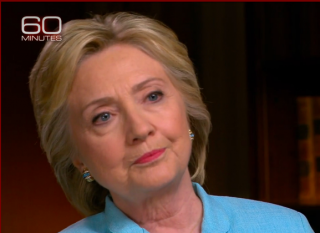 Hillary Clinton's comments on her use of a private server during last weekend's 60 Minutes interview are now being used against her in a FOIA lawsuit filed by Judicial Watch, a conservative watchdog group. For the last several weeks, Judicial Watch has been seeking to depose Clinton about her use of a private email server in order to figure out if Freedom of Information Act requirements were violated.
Judicial Watch says new information was gleaned from an interview with CBS' Scott Pelley including the fact that Clinton admitted that someone recommended she set up the server. The group wants to know who that someone was. They also contend her statement provides further reasoning for why she must be deposed under oath.  Clinton's lawyers say that issue is irrelevant to the lawsuit.
"If the State Department official, such as the executive secretary or the legal advisor, recommended that Secretary Clinton use a non-state.gov system for State Department business, such evidence could demonstrate the State Department's role in the decision," attorneys for Judicial Watch wrote in a motion, "Similarly, if someone who understood the secretary's FOIA obligations recommended Secretary Clinton's use of the system, such evidence could suggest that the motivation was more than just convenience."
Here is a transcript of the relevant exchange, and you can watch the full video here.
PELLEY: All right. Do you think you blew it on the e-mails?

CLINTON: Oh, I've said I did. Absolutely. I made a mistake. I should have had two accounts; one for personal and one for office. And I didn't, and I take responsibility for that.

PELLEY: Why did you do that, have the private e-mail servers?

CLINTON: You know, Scott, other people did have — other secretaries of state, other high-ranking members of the administrations, plural. And it was recommended that it would be convenient, and I thought it would be. Its turned out to be anything but.
Clinton's attorney, David Kendall, has already fired back in his own motion.
"Judicial Watch claims to want to know who recommended that using private email would be convenient. As counsel to Secretary Clinton has previously explained, however, Judicial Watch, is not entitled to FOIA discovery, let alone a deposition of a former Cabinet Secretary, merely to satisfy curiosity," Kendall wrote.
Federal Judge Emmet Sullivan will decide whether Judicial Watch will be able to depose Clinton.
Have a tip we should know? [email protected]
Rachel Stockman - President / On Air Host