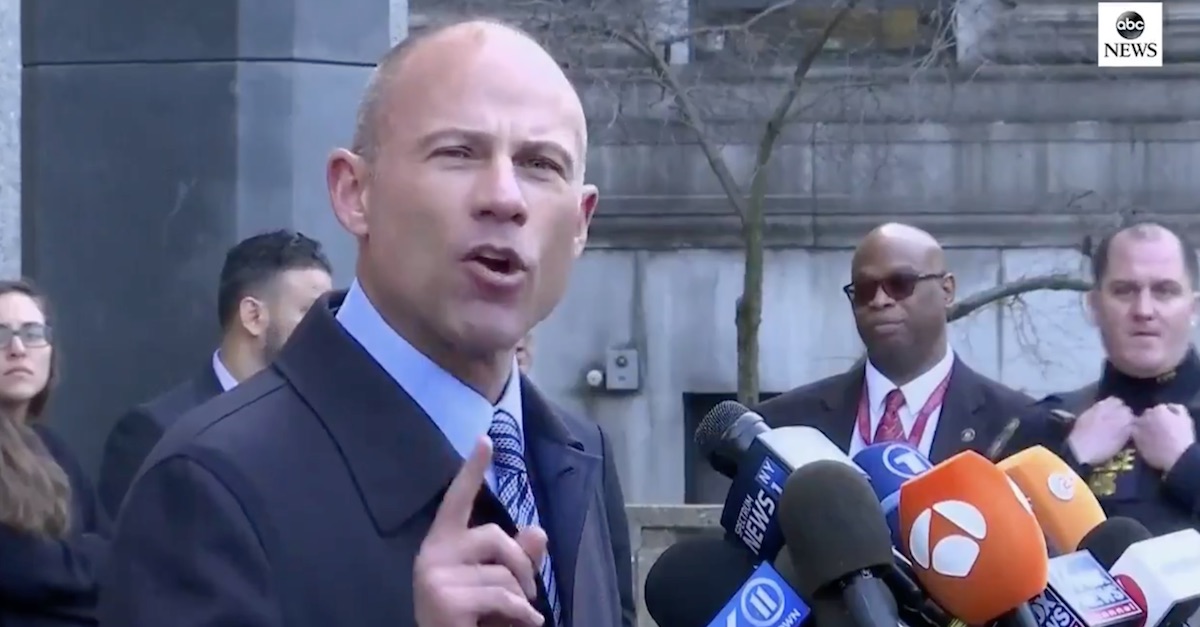 The feud between Michael Avenatti and Donald Trump Jr. keeps heating up, at least on Avenatti's end. Continuing a recent trend of going after the president's son on social media, the attorney made a bold prediction Thursday morning about Trump Jr.'s future. It wasn't positive.
"Donald Trump Jr. will be indicted before his birthday on 12-31-18," Avenatti said in a tweet.
Donald Trump Jr. will be indicted before his birthday on 12-31-18. If you doubt my prediction, please check my record over the last 7 months. #Winning

— Michael Avenatti (@MichaelAvenatti) October 11, 2018
This is in line with his comment earlier in the week, when he implied that Don Jr. may find himself in federal prison, telling him to "Buckle up Buttercup."
How sure is Avenatti that this will happen? Very. He's telling naysayers to look at his track record this year, mainly referring to his case where he represents adult film star Stormy Daniels against Michael Cohen and President Donald Trump. Since the lawsuit over Daniels' hush agreement began, Avenatti has pressured his opponents in media appearances, resulting in Trump and his legal team stumbling over themselves with contradicting stories regarding the $130,000 Daniels received to keep quiet about allegations that she had an affair with Trump in 2006. Avenatti also published financial data about Cohen and transactions he made, months before the former Trump attorney pleaded guilty to charges including tax fraud and campaign finance violations.
The recent comments directed towards Trump Jr. came after the president's son tweeted about disgraced politician Anthony Weiner possibly being released from prison early. He jokingly tweeted that we could see an Avenatti/Weiner ticket in 2020, referencing Avenatti's recent exploration of a possible run at the White House. Avenatti responded that Trump Jr. shouldn't joke about people in federal prison, since he may be going there himself.
After that exchange, Avenatti proposed that the two square off in a three-round mixed martial arts fight, with proceeds going to charity.
[Image via ABC screengrab]
Have a tip we should know? [email protected]