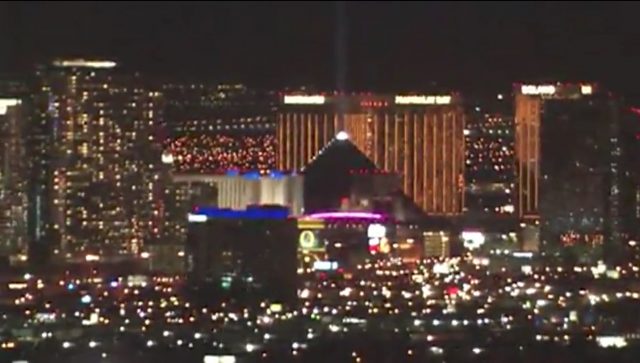 The Las Vegas Metropolitan Police Department ("LVMPD") has released audio of the moment officers breached Stephen Paddock's hotel room–and the immediate aftermath once it was determined he was no longer a threat.
The 64-year-old sometimes high-stakes gambler was suspected of opening fire from his 32nd floor room at Mandalay Bay Resort and Casino–onto a large crowd of country music fans attending a Jason Aldean concert outside on the Las Vegas Strip late last night.
In the first audio clip, a SWAT team member can be heard telling a dispatcher that officers are approaching the suspect's door and that everyone in the hallway should move back because they're about to make a move on him. The officer says:
I'm gonna sit on the suspect's door. I need everybody in that hallway to be aware of it and get back. We need to pop this and see if we get any kind of type response from this guy. To see if he's in here or if he's actually moved out somewhere else.
The dispatcher then confirms and calls for all units to fall back.
A few seconds later, a voice calls out, "Breach. Breach. Breach," before static intercedes and the feed goes silent.
In the second clip, SWAT again converses with dispatch, noting, "We have one suspect down," before other law enforcement officers offer their assistance at The Tropicana. Another voice interjects, noting that a team is already en route there. Dispatch then relays the news that the suspect is down–and requests that the air be cleared–before the audio cuts out.
In later comments to the local NBC affiliate, Undersheriff Kevin McMahill with the LVMPD, said:
What happened was is that the officers that were actually at that concert could actually hear where the rounds were coming from. It's very difficult for them to pinpoint that because it was up on the 32nd floor. They could see that the rounds were coming from that particular location as heavy fire, automatic fire at times. And so they were corralling all of the people that were actually at the concert into … behind a block wall. And so a number of other officers as the information came out then went immediately to the Mandalay Bay and began to ascend up to that 32nd floor. What we know is that once we arrived up there we had isolated this individual to the two rooms and then our SWAT team used the explosive breaching to go in and confront the individual.
In the immediate aftermath, anguish and confusion of the tragic events, the shooter's motive has yet to be determined. Paddock was found to have died due to a self-inflicted gunshot wound. Police found 10 rifles in his hotel room–along with several dozen magazines.
Both audio clips are available here.
[image via screengrab]
Follow Colin Kalmbacher on Twitter: @colinkalmbacher
Have a tip we should know? [email protected]