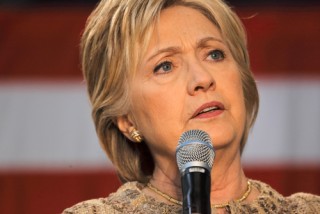 Attorneys for Vice News reporter, Jason Leopold, filed a document in court yesterday that pretty much rips into the DOJ/FBI's reasoning for withholding emails in relation to their FOIA lawsuit. Leopold is seeking correspondence between the FBI and Clinton referencing the Clinton email server.
In March, the U.S. Department of Justice filed a motion for summary judgment in the case, and incorporated a classified FBI declaration as one of the supporting documents. The DOJ argues that that the requested emails are not subject to FOIA because "there is a pending or prospective law enforcement proceeding" and their release could interfere with their investigation.
Leopold's attorneys, Jeffrey Light, and Ryan James, fired back in a new filing. First they argue that the FBI has not met the requirements for this FOIA exemption because the DOJ has not provided enough information about the nature of the FBI investigation into the private email server:
"To show such a nexus, 'the agency should be able to identify a particular individual or a particular incident as the object of its investigation and the connection between that individual or incident and a possible security risk or violation of federal law.'"
In other words, the attorneys want to know more about the "specific facts as to the basis for the FBI's belief" that Ms. Clinton (or anyone else) committed a crime. The attorneys argue that the FBI has to demonstrate that its investigation relates to a violation of federal law or the maintenance of national security in order to justify an exemption to the Freedom of Information Act. As you might recall, at this point, FBI Director James Comey has been pretty tight lipped about the scope and potential target of his investigation into the unsecured email server.
Leopold's attorneys also scrutinize the adequacy of the government's search for their requested emails  questioning why the government didn't search the FBI's National Press Office, the Investigative Publicity and Public Affairs Unit, the office of the Director, Deputy Director, etc. The list they cite goes on. The attorneys are hoping that the federal judge will deny the DOJ's motion for summary judgment.
We are reaching out to the U.S. Department of Justice for further comment, and will update here accordingly.
Here is a copy of the latest filing. Points if you notice where the attorneys cited our founder, Dan Abrams.
Leopold V. Department of Justice by LawNewz
[image via shutterstock]
Have a tip we should know? [email protected]
Rachel Stockman - President / On Air Host