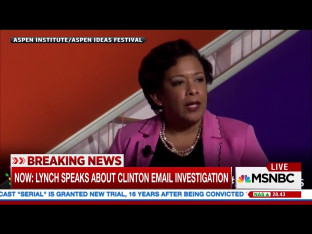 In an effort to put out the firestorm surrounding news of her private meeting with former President Bill Clinton, Attorney General Loretta Lynch was forced to speak out on Friday about her role in the investigation into Hillary Clinton's use of a private email server.  However, Attorney General Lynch's attempt to defend the integrity of the investigation failed. Instead, her very own remarks made the case for why she should recuse herself even stronger.
Word that Attorney General Lynch would address the giant elephant in the room leaked out hours before she spoke at an event in Aspen, Colorado.  As a result, some variation of the report that she will accept the FBI's recommendation in the case is currently dominating the headlines on media outlets across the internet.  Yet, what the Attorney General actually said about the matter was far more nuanced and, frankly, unprecedented.
While repeatedly acknowledging that the meeting "raises questions and concerns" and even saying it "casts a shadow over how this case may be perceived," the Attorney General has somehow reached the conclusion that she does not need to recuse herself from the case.  Her reasoning?  Recusing herself "would mean that I wouldn't even be briefed on what the findings were, or what the actions going forward would be.  And while I don't have a role in those findings … or making those recommendations on how to go forward, I will be briefed on it, and I will be accepting their recommendations."
So, the Attorney General apparently believes that any questions of impropriety will be resolved by simply limiting her role to "reviewing"  or getting "briefed" on the recommendations of the FBI and "career" Department of Justice attorneys.
This is unacceptable — her own words and a review of the Department of Justice's own policies demonstrate why.
The DOJ's 14 General Principles of Ethical Conduct provide, in part:
14. Employees shall endeavor to avoid any actions creating the appearance that they are violating the law or the ethical standards set forth in this part. Whether particular circumstances create an appearance that the law or these standards have been violated shall be determined from the perspective of a reasonable person with knowledge of the relevant facts
I think any reasonably person could come to the conclusion that her "impromptu" meeting creates an appearance of a conflict of interest. Furthermore, the DOJ's Ethics Handbook for On and Off-Duty Conduct addresses how to handle potential conflicts of interest, stating, "Generally, you should seek advice before participating in any matter in which your impartiality could be questioned."  To remedy any potential conflicts of the interest, the handbook further states:
If you have a financial conflict of interest or believe your impartiality might be questioned, you must either disqualify yourself from taking action that could affect your interest, or see your Deputy DAEO about the following alternatives:…In a case where your impartiality might be questioned, you may obtain a formal determination from your component head that the Department's interest in your participation outweighs the concern that the integrity of the Department's operations would be questioned.
As the Attorney General clearly recognized in her own statements on Friday, her impartiality in the Clinton email matter is undoubtedly in question.  This was already true to a certain extent before questions were raised about her private meeting with the former president earlier this week.  In 1999, then-President Clinton nominated Lynch to serve as the U.S. Attorney for the Eastern District of New York. She is originally a Clinton appointee!
Any time that past association with the Clintons has been cited as potentially creating a conflict in the email investigation it has largely been dismissed.  However, as the airport episode demonstrates, that relationship is closer than many previously assumed.  Sure, Bill Clinton is a friendly guy, but to delay his departure just to jump on Attorney General Lynch's plane indicates they have more than a professional relationship. In fact, she even admitted they spoke about personal things like grandkids.
While Attorney General Lynch continues to insist nothing improper was discussed during the airport meeting, she has now acknowledged that it is "perfectly reasonable" for people to question the mere fact that it occurred at all.  Furthermore, she told the audience in Aspen on Friday, "The most important thing for me as attorney general is the integrity of this Department of Justice. And the fact that the meeting I had is now casting a shadow over how people will view that work is something that I take seriously…."
If the Attorney General is truly "seriously" concerned about the integrity of the U.S. Department of Justice, including the public's perception of the DOJ, recusing herself from the case would go a long way in proving her point.  In fact, there is no reason for her not to recuse herself at this point. This is especially true considering she stated that she plans to simply accept the recommendations of the FBI on how to proceed in the case. The case deserves an impartial special prosecutor to do more than just "accept" the recommendations. It seems entirely unnecessary to allow this shadow to be cast over one of the most high profile federal investigations in modern history.
It is certainly possible that Attorney General Lynch will reconsider her decision over the long holiday weekend and decide to recuse herself next week — but do not hold your breath.  I think it is safe to assume they are hoping the story will be overshadowed by other events, or better yet, simply be ignored or overlooked by most people as they enjoy the Fourth of July celebrations.  I hope I'm proven wrong.
This is an opinion piece. The views expressed in this article are those of just the author.