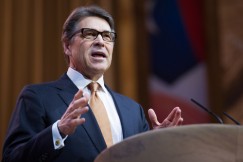 Abuse of power charges against former Republican Presidential candidate Rick Perry were dismissed Wednesday by the Texas Court of Criminal Appeals.
The former Texas Governor was indicted by a grand jury in August 2014 after an incident in which Perry threatened, and then carried out a veto that defunded a Texas public integrity unit in an attempt to force the resignation of a district attorney. Originally, two indictments were brought against Perry, but the first was dismissed in July.
The charges sought to examine the separation-of-powers language in the Texas Constitution, specifically Perry's veto power under the "abuse of official capacity" statute.
Sec. 39.02., "Abuse of Official Capacity" of the Texas Penal Code states, in part,
(a) A public servant commits an offense if, with intent to obtain a benefit or with intent to harm or defraud another, he intentionally or knowingly:

(1) violates a law relating to the public servant's office or employment; or

(2) misuses government property, services, personnel, or any other thing of value belonging to the government that has come into the public servant's custody or possession by virtue of the public servant's office or employment.
The Texas Republican was clear that the indictment was an attempt to use the justice system for political gamesmanship. "I'm proud to say the court upheld the law and the right of any person to speak freely without the threat of legal intimidation," he said during a press conference covered by CNN. "The court's decision today proves that this indictment was nothing less than a baseless political attack, and an assault on constitutional powers."
Rick Perry was the longest serving governor in the history of The Lone Star State at 15 years.
[h/t and screengrab via CNN]
Have a tip we should know? [email protected]