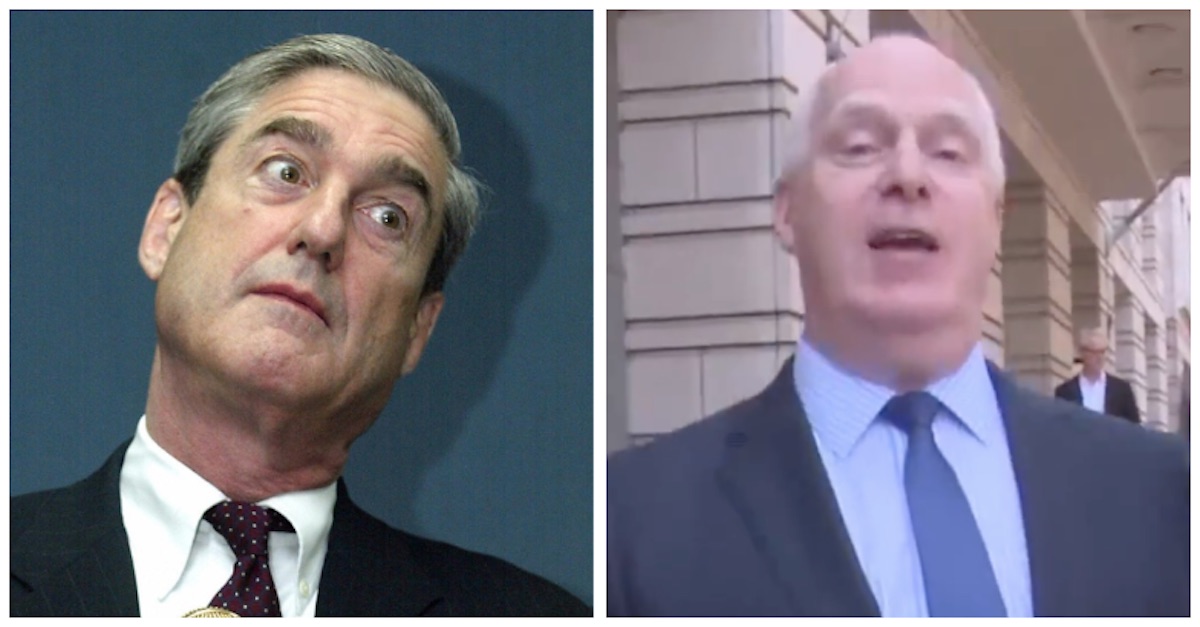 Attorneys for accused Russian troll farm Concord Management and Consulting LLC have responded to the stern rebuke U.S. District Judge Dabney Friedrich handed down in a Washington, D.C. courtroom on Monday. At the very end of the filing, attorneys Eric Dubelier and Katherine Seikaly wondered why the judge wasn't "offended" by one of special counsel Robert Mueller's recent filings. They also claimed that the MSNBC's Rachel Maddow, in "devot[ing] a significant portion of her variety program to the words spoken by the Court yesterday," whipped "self-proclaimed patriots" into such a "frenzy" that those people unleashed an avalanche of threats, including death threats.
In case you missed it, Judge Friedrich bluntly criticized attorney Dubelier's filings in response to special counsel Mueller. Those filings have referenced anything from a "nude selfie" to Animal House. Judge Friedrich said she found the Animal House reference particularly "unprofessional."
Friedrich specifically took issue with "clever quotes" and "recent filings, in particular your reply brief filed Friday." She said the filings were "unprofessional, inappropriate, and ineffective," adding, "I will say it plain and simple: knock it off." Dubelier responded by accusing the judge of having a "bias," defending his words as "the truth" and, most noticeably, telling the judge "That's your opinion."
Dubelier and Seikaly claimed that the judge didn't take into account how this exchange would be covered in the media, seemingly suggesting that the judge underestimated her own authority. They said that "self-proclaimed patriots were whipped into their frenzy by a cable television entertainer unknown to undersigned counsel."
They named that "entertainer unknown" as Maddow:
Perhaps more importantly however, the Court did not consider the fact that while the mainstream media has largely ignored Defendant's pending motions, when the word "Judge" appears before a person's name, this political adornment suggests to the public that there now is some higher level of wisdom than among the mere mortal lawyers in the case, and as such, every single mainstream media organization repeated the Court's words as gospel. The direct consequence was swift and clear; that is, undersigned counsel have received overnight and continuing today a flow of hatred in the form of voicemail and electronic mail from self- proclaimed patriots containing threats, intimidation, and the desire that both undersigned counsel promptly die. One communication specified that the cause of death for Ms. Seikaly should be by fire. Apparently some of these brave self-proclaimed patriots were whipped into their frenzy by a cable television entertainer unknown to undersigned counsel named Rachel Maddow who devoted a significant portion of her variety program to the words spoken by the Court yesterday. So while counsel's words used in advocacy can hurt, the words of a Judge can have devastating consequences.
Dubelier and Seikaly claimed that opposing counsel has not expressed "any problems with the content or tone" of their filings. They also accused Judge Friedrich of defending special counsel Mueller.
It is clear that at each court appearance the government has been represented by ten or more lawyers and investigators working for the Special Counsel, the U.S. Department of Justice National Security Division, and the United States Attorney for the District of Columbia. Each one of these individuals is an experienced attorney, perfectly capable of advocacy on behalf of the government. None of them, in pleadings or in court, have expressed any problems with the content or tone of Defendant's filings other than vigorously opposing the relief sought. For a reason unknown to undersigned counsel, the Court took it upon itself to defend the Special Counsel, creating at a minimum an appearance of bias or prejudice in favor of the government.
What followed that was a citation to an opinion from United States v. Bostick, 791 F.3d 127, 155 (D.C. Cir. 2015) penned by then-U.S. Appellate Judge Brett Kavanaugh. That opinion said that "a showing of an appearance of bias or prejudice sufficient to permit the average citizen reasonably to question a judge's impartiality is all that must be demonstrated to compel recusal."
In closing, Concord's attorneys said they were "perplexed by the Court's statement" that they have to "establish [they are] entitled to discovery" requested.
"Unfortunately, it appears that the Court believes it is the burden of the Defendant to establish it is entitled to discovery as opposed to the burden of the Special Counsel to establish that Defendant is not entitled to discovery," they said. "Given the fact that there is no case law to support the Special Counsel's position in this case, Defendant remains perplexed by the Court's statement, but will leave that argument for another day."
In a footnote, Dubelier and Seikaly attempted to explain their "tone […] was intended to highlight the fact that in his opposition memorandum the Special Counsel simply opposed the request" and "cited no case authority in his pleading, and provided no declaration or affidavit to the Court under seal or otherwise."
They suggested Judge Friedrich should be "offended" by this, too.
Concord attorneys respond t… by on Scribd
[Images via Goh Chai Hin/AFP/Getty Images, YouTube/RT screengrab]
Have a tip we should know? [email protected]