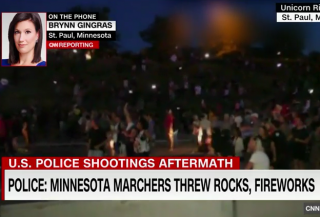 In the wake of the shooting of Philando Castile, a driver who was shot by a Minnesota police officer during a traffic stop, protesters took the streets of St. Paul Saturday night, CNN reported. Police arrested 50 people after demonstrators reportedly hurled fireworks, bricks, and bottles in their direction.
The St. Paul police said that at least five officers were hurt during the clash, including one who was hit in the head with a rock, and another who was struck by falling concrete that police say may have been dropped from a bridge. Hundreds of protesters marched in the street on Interstate 94, and police spokesman Steve Linders acknowledged that officers used crowd control measures that included smoke and marking rounds, which are similar to paintball pellets. Officers cleared the area and reopened the highway at 2:30am local time.
This was just one of several protests that went on across the country over the weekend, after the shootings of Castile and Alton Sterling, who was gunned down by police in Baton Rouge on Tuesday. Between those deaths and Thursday's sniper attack in Dallas that claimed the lives of five police officers, tensions were high as Americans took to the streets in Miami, New York, Chicago, Atlanta, and Washington, D.C. In Fort Lauderdale, Florida, protesters marched to the Broward County Courthouse and the county jail. By Sunday morning, hundreds had been arrested during protests across the nation.
WATCH LIVE: @MJohnsonWSB walks with protesters heading south on Peachtree St. https://t.co/AFmsZSUkYd pic.twitter.com/IbIsEReS0o

— WSB-TV (@wsbtv) July 10, 2016
#TrafficAlert #BlackLivesMatter protest takes over Biscayne Boulevard https://t.co/wjs0mczQ3P pic.twitter.com/HOLZVflxGF

— WPLG Local 10 News (@WPLGLocal10) July 10, 2016
The Black Lives Matter movement has come out against all of the attacks, including the one against the Dallas police. The said in a statement, "Black activists have raised the call for an end to violence, not an escalation of it. (Thursday's) attack was the result of the actions of a lone gunman."
Have a tip we should know? [email protected]