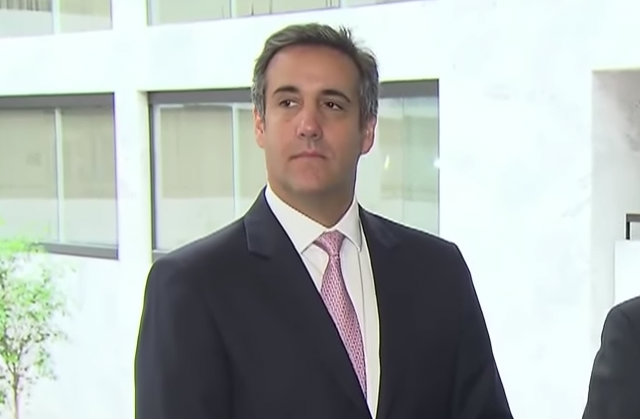 Man, these Trump news cycles are really something: The Wall Street Journal reported Friday that Michael Cohen, one of the president's personal lawyers, arranged to pay porn star Stormy Daniels $130,000 to not disclose an alleged sexual encounter from 2006. Here are three things you need to know to get oriented on this crazy story.
1. Who is Stormy Daniels?
Some of you don't know who she is. Some of you are pretending not to know. Either way, here are the basic details. Her real name is Stephanie Gregory Clifford. This 38-year-old built a successful career in the porn industry, and spun it off into mainstream appearances in films like The 40-Year-Old Virgin. Heck, fans tried getting her to run for a U.S. Senate seat in the 2010 midterm elections.
Sources described as "people familiar with the matter" claim Cohen arranged the payment in October 2016 after he and Daniels' attorney reached a non-disclosure agreement. The alleged sexual encounter happened after Daniels and Trump met at a July 2006 celebrity golf tournament. Remember, Trump married his wife Melania the year before.
Clifford did not immediately respond to a Law&Crime request for comment. The WSJ said they had no luck getting a response from her. One of her attorneys and a spokeswoman for the bank that reportedly handled the $130,000 payment both declined to comment to the Wall Street Journal. As for Cohen, he didn't discuss the alleged payment, but said that both Trump and Daniels' denied any such sexual encounter actually happened.
"These rumors have circulated time and again since 2011," he said in a statement obtained by Law&Crime. "President Trump once again vehemently denies any such occurrence as has Ms.Daniels."
He also provided a statement in Daniels' name.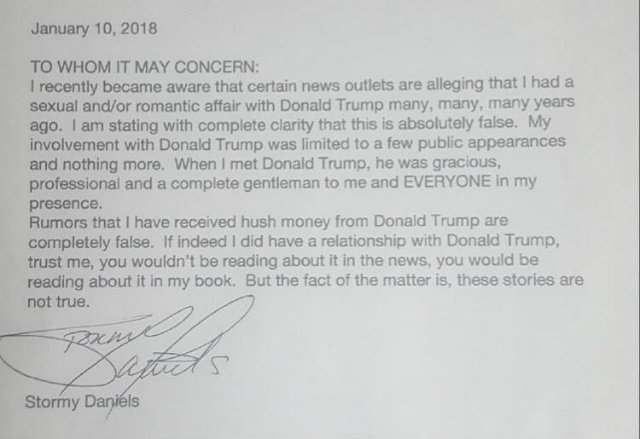 2. The NDA was reached around the time that the Trump campaign dealt with sexual misconduct allegations.
Nothing indicates that Trump's alleged interaction with Daniels was anything but consensual. So what's the big deal? Why pay so much money to hide the alleged affair? Well, he was running for president in October 2016, and he was dealing with numerous claims of sexual misconduct. Released footage showed him bragging about kissing women and grabbing their privates without apparent permission. This caught national attention because the statement could fit statutory definitions of sexual assault. It didn't help that several women were making on-the-record allegations of misconduct by Trump.
3. Daniels was reportedly ready to talk about it.
The Wall Street Journal had already reported that Daniels was in discussions in fall 2016 to discuss her Trump affair with ABC's "Good Morning America, according to sources described as "people familiar with the matter."
Rachel Stockman contributed to this report.
[Screengrab via MSNBC]
Have a tip we should know? [email protected]