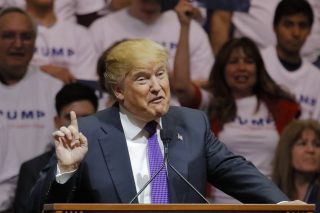 If you actually have a job other than just monitoring your twitter feed for the latest Trump election developments, you might feel a little overwhelmed with the news cycle over the last two days. You might even be lost on who's accused Trump of what so far. So, we've put together a list. There have also been number of women who have accused Trump of walking into dressing rooms, and saying other inappropriate comments. For this list, we've focused on the most serious of accusations, sexual assault and misconduct. So far, Donald Trump has denied each and every allegation against him. He's even threatened to sue The New York Times for their most recent reporting on two women who told their stories.
Jessica Leeds
When did she say it happened? 1980s
Where? On an airplane in first class
What allegedly happened? She told The Times about 45 minutes after takeoff, Trump lifted the armrest and started to assault her by grabbing her breasts and putting his hands up her skirt.  "He was like an octopus," she told the newspaper. "His hands were everywhere."
Trump's Response: He denied the allegations saying at a rally, "Now, today the same two discredited writers, who should've been fired from The New York Times for what the did, tell another totally fabricated and false story, that supposedly took place on an airplane more than 30 years ago. Another ridiculous tale, no witnesses, no nothing." Katrina Pierson, Trump's spokeswoman, told CNN "I do not believe it at all, it is 100 percent patently false." She also called the story "ridiculous" citing the the make of planes back then.
Rachel Crooks
When did she say it happened? 2005
Where? Trump Tower
What allegedly happened? She told The Times "Aware that her company did business with Mr. Trump, she turned and introduced herself. They shook hands, but Mr. Trump would not let go, she said. Instead, he began kissing her cheeks. Then, she said, he 'kissed me directly on the mouth.'"
Trump's Response: He denied The New York Times story in general from Wednesday, but hasn't taken on the Trump Tower allegation head on.
Natasha Stoynoff
When did she say it happened? 2005
Where? Trump's Mar-a-Lago resort in Florida when she went to interview Donald Trump and Melania Trump for a People article.
What allegedly happened? She wrote in People Magazine: "We walked into that room alone, and Trump shut the door behind us. I turned around, and within seconds he was pushing me against the wall and forcing his tongue down my throat."
Trump's response: He told a crowd in West Palm, Beach Florida: " Then, there was a writer from People Magazine, who wrote a story on Melania and myself on our first anniversary. The story was beautiful, it was beautiful, it was lovely. But, last night we hear that after 12 years — this took place 12 years ago, this story — a new claim that I made inappropriate advances during the interview to this writer…
And I asked very simple question, why wasn't it part of the story that appeared 20, or 12 years ago? Why wasn't it a part of the story? Why didn't they make it part of the story? I was one of the biggest stars on television with The Apprentice and I would've been one of the biggest stories of the year. Think of it, she's doing this story on Melania, who was pregnant at the time. And Donald Trump, our one year anniversary and she said I made inappropriate advances, and by the way, the area was a public area, people all over the place.
Take a look, you take a look. Look at her, look at her words. You tell me, what you think. I don't think so — I don't think so.. These people are horrible people, they're horrible, horrible liars."
EXCLUSIVE: Woman says Trump groped her in Palm Beachhttps://t.co/coBG54w1bb pic.twitter.com/KCSmfVXnEe

— The Palm Beach Post (@pbpost) October 12, 2016
Mindy McGillivray
When did she say it happened? 2003
Where? Mar-A-Lago in Florida. She was reportedly there with a friend who was doing a photography shoot.
What allegedly  happened? She told The Palm Beach Post that Donald grabbed her butt. There was apparently an eyewitness. The Post reports, "her companion that day, photographer Ken Davidoff, vividly remembers when McGillivray pulled him aside moments after the alleged incident and told him, 'Donald just grabbed my ass!'"
Trump's Response: He's denied the allegations. High-ranking sources within the Trump campaign told CNN they were "drafting" a lawsuit against The Palm Beach Post over the story for defamation.
Jill Harth 
When did she say it happened? 1992 to 1997
Where? Mar-A-Lago in Florida. Harth was there on business. She was a pageant executive at the time.
What allegedly happened? According to a 1997 lawsuit first obtained by LawNewz.com, Harth who then went by Jill Harth Houraney alleged that Trump engaged in hostile and offensive sexual behavior towards her from 1992 to 1997 including "groping" her under her dress on several occasions, "forcibly" moving her to his daughter's bedroom in an attempt to have sex with her, and repeatedly, aggressively and inappropriately propositioning her for sex. She called it "sexually abusive."
Trump's Response? Just 8 minutes after our interview hit LawNewz.com and in the midst of the Republican National Convention, Trump got on the phone with us to go on the offense. Trump not only denied the allegations, but he also went after Harth. He told LawNewz.com that she was a woman who has "real problems." In addition, Harth told us Trump also sent his attorney after her to try to get her to change her story.
'Jane Doe' 
When did she say it happened? Summer months of 1994
Where? At convicted billionaire pedophile Jeffrey Epstein's apartment in New York City.
What allegedly happened? In a complaint filed in federal court in October, Jane Doe, who is using a pseudonym, she says, to protect her identity, says she was raped by Donald Trump when was was 13 years old. Doe's attorney writes in the complaint,  "Defendant Trump initiated sexual contact with Plaintiff at four different parties. On the fourth and final sexual encounter with Defendant Trump, Defendant Trump tied Plaintiff to a bed, exposed himself to Plaintiff, and then proceeded to forcibly rape Plaintiff. During the course of this savage sexual attack, Plaintiff loudly pleaded with Defendant Trump to stop but with no effect."
Trump's response: Trump has repeatedly denied the allegations. This is the third attempt the plaintiff has made in filing this lawsuit.  "As I have said before, the allegations are categorically untrue and an obvious publicity stunt aimed at smearing my client," Trump's lawyer, Alan Garten,  told LawNewz.com earlier this month. "In the event we are actually served this time, we intend to move for sanctions for this frivolous filing."
Kristin Anderson
When did she say it happened? Some time in the early 1990s
Where? At a Manhattan nightspot. Anderson told the Washington Post it may have been China Club, but she couldn't remember for sure.
What allegedly happened? Anderson, who was an aspiring model in her early twenties at the time, claims that she was talking to other people when she felt someone else's fingers reach under her miniskirt, up her thigh, and then touch her vagina through her underwear. She pushed the hand away from her and left the couch where she had been sitting. When she turned around to see who did it, she recognized the alleged culprit as Donald Trump. "He was so distinctive looking — with the hair and the eyebrows," Anderson told the Post. "I mean, nobody else has those eyebrows." She claims that she and the other people she was with were "very grossed out and weirded out."
Trump's response: Trump spokeswoman Hope Hicks said in an email to the Post, "Mr. Trump strongly denies this phony allegation by someone looking to get some free publicity. It is totally ridiculous."
This article has been updated to include Kristin Anderson's allegations.
Have a tip we should know? [email protected]
Rachel Stockman - President / On Air Host