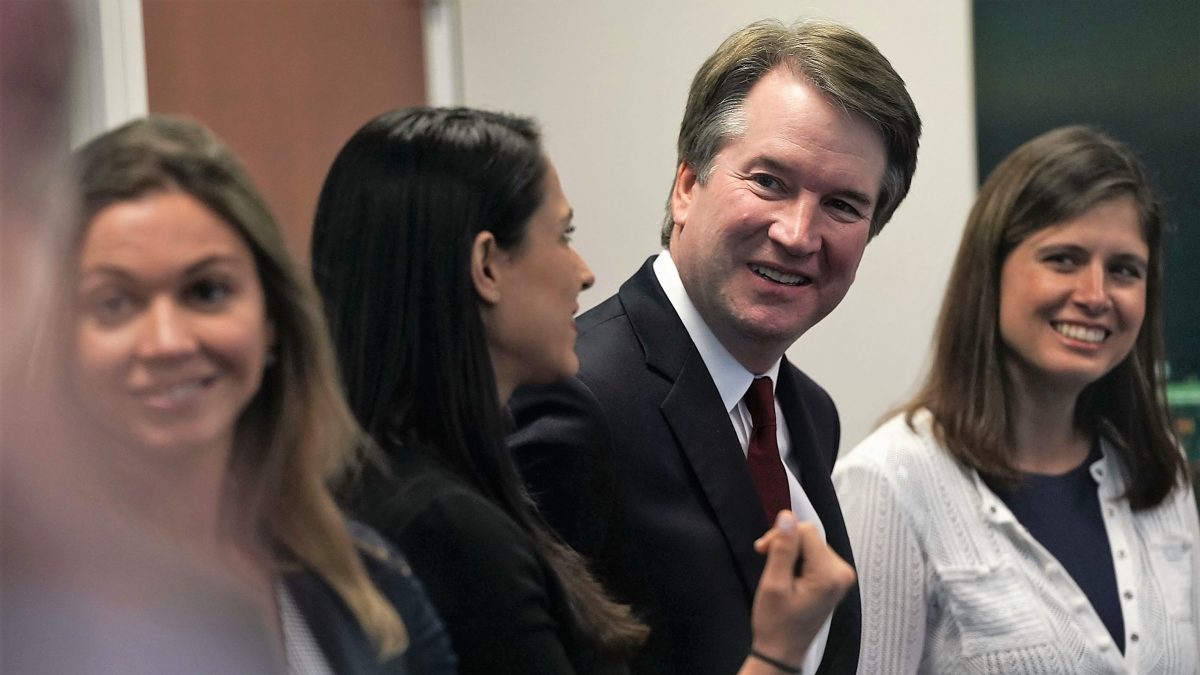 Editor's Note, Update 11:34 8/1/2018: It was announced on July 17th that Judge Brett Kavanaugh would step away from his case work while his nomination was pending and awaiting Senate Confirmation. 
Judge Kavanaugh, who has been on that court since 2006, could miss arguments in September when the court returns from its summer break, and the court has not released an opinion penned by Judge Kavanaugh since his nomination Monday. At least while his nomination from President Donald Trump is pending, a court spokeswoman said, he won't
An interesting footnote is included in a decision Tuesday morning by the Washington, D.C. Circuit Court of Appeals. The decision is a ruling against the Roman Catholic Archdiocese of Washington, D.C., which sought to purchase religious-themed advertisements on D.C.-area buses. Merits aside, the footnote is what's attracting attention:  "Circuit Judge Kavanaugh was a member of the panel at the time the case was argued but did not participate in this opinion."
Here's the arithmetic. Seventeen judges sit on the D.C. Circuit. Generally, cases are heard by three-judge panels. Judges Judith W. Rogers, Robert L. Wilkins, and Brett M. Kavanaugh rounded out the original three-judge panel on this case. However, for reasons which are officially unexplained, Kavanaugh did not participate in the actual deciding of the case — even though he heard the oral arguments on March 26, 2018. (The opinion came down July 31, 2018.)
The D.C. Circuit ruled that the operator of Washington, D.C.-area buses could refuse to carry religious-themed advertisements without violating the First Amendment. Part of the decision hinged on a determination that buses were not traditional public forums for speech.
The cynics of the world immediately noted that a lot happened in the life of Judge Kavanaugh between those two dates. Namely, President Donald Trump nominated Kavanaugh to a seat on the Supreme Court on July 9th. Given the subject matter of the case — the First Amendment and religious freedom — a lot of people really wanted to hear Kavanaugh weigh in on the matter:
Woulda been informative to see how Kavanaugh would have ruled on this one. https://t.co/l11cfBgTUP

— Mike Sacks (@MikeSacksEsq) July 31, 2018
Why the change? Why did Kavanugh sit for the arguments but refuse to participate in the decision? Legally, there are several possible answers. Here is what we know or can extrapolate from the actual court record.
First, if Kavanaugh did have a clear conflict of interest, he shouldn't have been on the panel in the first place. Grounds for judicial conflicts are almost always noted early and nipped early when cases come before courts. Remember the number of times former solicitor general Elena Kagan recused herself from cases her office handled? In those cases, it was made clear:  "Justice KAGAN took no part in the consideration or decision of this case" (emphases added).
Second, Kavanaugh appears to have not been challenged by either party for bias or prejudice. Under federal law, parties can challenge judges from hearing cases where the judge "has a personal bias or prejudice either against . . . or in favor of any adverse party." Law&Crime is not able to locate anything on the court record to suggest Kavanaugh was challenged on such grounds.
Third, other portions of federal law explain when judges must themselves must step away from cases. Those reasons include if "his impartiality might reasonably be questioned;" "personal bias or prejudice concerning a party;" "personal knowledge of disputed evidentiary facts;" if he was previously a lawyer involved with the matter; or if he "has a financial interest" in the proceeding or in a party to the proceeding. Judges must also step away if their families have any of these problematic issues as well. Law&Crime is not able, after some diligence to locate anything on the court record to suggest Kavanaugh did not play a role in the decision on these grounds.
But what is interesting is that Kavanaugh's ties to the D.C. Catholic community are pretty well documented — especially in recent weeks. What's changed between March 26th and July 31st? A lot more people are talking about those ties — including Kavanaugh himself. Yes, Kavanaugh talked about his Jesuit Catholic education and his ties to the D.C. Catholic community during his nomination announcement with President Trump:
The motto of my Jesuit high school was "Men for others."  I've tried to live that creed.  I've spent my career in public service, from the executive branch and the White House to the U.S. Court of Appeals for the D.C. Circuit.

[ . . . ]

I am part of the vibrant Catholic community in the D.C. area.  The members of that community disagree about many things, but we are united by a commitment to serve.  Father John Enzler is here.  Forty years ago, I was an altar boy for Father John.  These days, I help him serve meals to the homeless at Catholic Charities.
Those are Judge Kavanaugh's own words on perhaps the most powerful personal platform from which he has spoken to date. Since then, a Yahoo! report from earlier this month dug into Kavanaugh's education and reputation among D.C. Catholics.
Why did Kavanaugh sit for oral arguments but not take part in a decision involving the D.C. Catholic Archdiocese? The record is silent. We just don't know. For his part, Kavanaugh is busy meeting and greeting senators in hopes of winning confirmation. Maybe he's just too busy these days.
After meeting Judge Kavanaugh and reviewing his record, I have decided to support his nomination. No one will ever completely agree with a nominee (unless of course, you are the nominee). Each nominee however, must be judged on the totality of their views character and opinions.

— Senator Rand Paul (@RandPaul) July 30, 2018
Law&Crime reached out to the principal attorneys on both sides of the case and to the D.C. Archdiocese to delve into Kavanaugh's presence-turned-absence on the case. The Archdiocese itself could not explain why Kavanaugh did not decide the case. In a statement, Archdiocese Secretary of Communications Ed McFadden said the decision "is a reminder that freedom of religion and expression in the public square should never be taken for granted." He further said that the Archdiocese "will continue to defend those rights at every opportunity." The attorneys have not responded to our inquiries. If they do, we will update this report.
[Photo by Alex Wong/Getty Images.]
Have a tip we should know? [email protected]
Aaron Keller - Deputy Editor-in-Chief