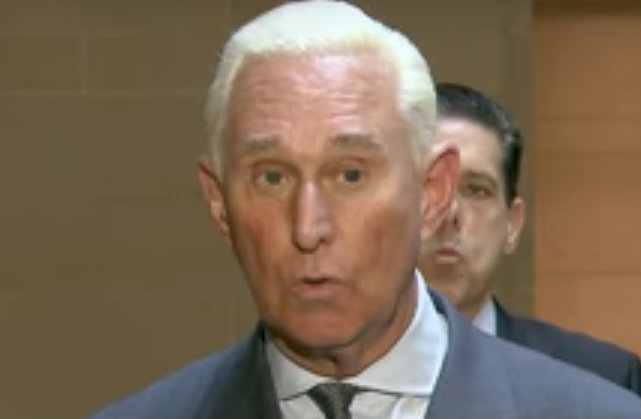 Roger Stone is threatening legal action against Twitter for suspending him. The Trump campaign adviser told POLITICO in an email Saturday that he spoke with "prominent telecommunication attorneys" about this. Stone claimed the suspension was an attack on free speech.
"This is a strange way to do business and part and parcel of the systematic effort by the tech left to censor and silence conservative voices," he wrote. He accused Twitter of turning a blind eye when he, his family, "and even my dogs" previously received death threats on the site.
The legal justification of this lawsuit remains to be seen. It wouldn't be a First Amendment case since that only affects the government.
Stone got suspended Saturday almost certainly for a tweet storm against Don Lemon. He called the CNN host "dumber than dog shit" amid reporting that a grand jury made an indictment in the special counsel's investigation into Russia's 2016 election interference. Sources told CNN that someone could be arrested as early as Monday. The probe is reviewing whether the Trump campaign colluded with the Kremlin.
LawNewz reached out to Twitter for comment on Stone.
"I cannot comment on individual accounts," wrote a spokesperson in an emailed response. "Broadly, our policy on Abusive Behavior is: 'We believe in freedom of expression and in speaking truth to power, but that means little as an underlying philosophy if voices are silenced because people are afraid to speak up. In order to ensure that people feel safe expressing diverse opinions and beliefs, we do not tolerate behavior that crosses the line into abuse, including behavior that harasses, intimidates, or uses fear to silence another user's voice.'"
The spokesperson laid out the policy like this:
Any accounts and related accounts engaging in the activities specified below may be temporarily locked and/or subject to permanent suspension.

Violent threats (direct or indirect): You may not make threats of violence or promote violence, including threatening or promoting terrorism.

Harassment: You may not incite or engage in the targeted abuse or harassment of others. Some of the factors that we may consider when evaluating abusive behavior include:

if a primary purpose of the reported account is to harass or send abusive messages to others;

if the reported behavior is one-sided or includes threats;

if the reported account is inciting others to harass another account; and

if the reported account is sending harassing messages to an account from multiple accounts.
CNN banned the foul-mouthed Stone from the network in 2016 over old tweets where he called contributor Ana Navarro, who is Hispanic, an "Entitled Diva Bitch," and contributor Roland Martin, who is black, "a fat Negro."
Critics on both the left and the right have accused Twitter of being inconsistent when it comes to moderating abusive behavior on the site, though Twitter CEO Jack Dorsey promised in mid-October to do better in the future when addressing harassment and rule violations.
Update – Oct. 29, 3:34 p.m.: Added a statement from a Twitter spokesperson.
[Screengrab via CNN]
Have a tip we should know? [email protected]