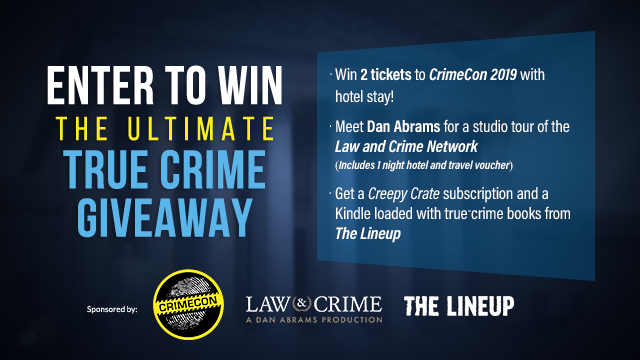 Law&Crime, in conjunction with CrimeCon and The Lineup, is bringing you the ULTIMATE True Crime Giveaway!
Enter between July 19 and August 29, 2018 for a chance to win the Ultimate True Crime Giveaway valued at over $2,200. One lucky winner will walk away with a meet and greet with legal expert and host Dan Abrams of Live PD, a tour of the Law&Crime Network's studio, a one-night hotel stay, and up to $400 in travel expenses to Manhattan! In addition to this once in a lifetime opportunity, the winner will also receive two CrimeCon 2019 badges with a two night hotel stay in New Orleans, Louisiana, a one year subscription to The Lineup's Creepy Crate, and a Kindle Paperwhite with over 25 true crime books!
This is an opportunity you definitely don't want to miss. You can sign up for the Ultimate True Crime Giveaway here! Good luck, and hopefully we'll see you in New York!
Have a tip we should know? [email protected]