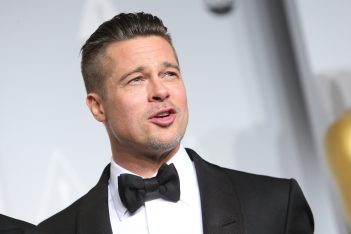 A new report published over the weekend claims Brad Pitt was never in any danger of being prosecuted over claims that he was abusive towards his 15-year-old son on a private jet earlier this year.
As you may remember, last month several media outlets reported that Pitt was the subject of a child abuse investigation by local and federal law enforcement agencies, including the L.A. County Department of Children and Family Services and the FBI.  According to those reports, Pitt was allegedly being investigated after he was seen "getting verbally abusive with one of [his] kids, as well as getting 'physical.'"  The incident allegedly happened on board a private jet, so the FBI assumed jurisdiction to investigate the claims.
Despite all of the media reports and hoopla around the incident, TMZ.com is now reporting that it turns out Pitt is no longer in any danger of facing charges because there was never an investigation to begin with.
Citing "well placed law enforcement sources," the celebrity gossip website now says although the FBI continues to say they are looking into the claims, the reality is they have no plans to open a formal investigation or bring charges.  In fact, the sources say the whole thing never should have been reported to the Bureau in the first place because witnesses are saying any contact between Pitt and his 15-year-old son was inadvertent.
[image via Joe Seer/Shutterstock]
Have a tip we should know? [email protected]