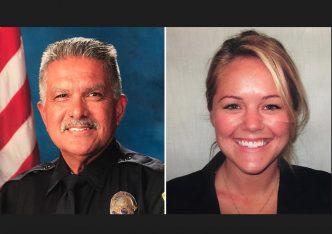 Police say they have arrested a 26-year-old man with known gang ties and charged him with killing two Palm Springs police officers and wounding one more, during a violent incident on Saturday.  A neighbor who lives near the scene told media outlets the father of the alleged cop killer came over just before the shooting and said his son had a gun and wanted to kill police.
John Felix was arrested around midnight after a lengthy standoff, according to the Desert Sun newspaper.  Police say Felix shot and killed officers Jose "Gil" Vega and Lesley Zerebny as they approached the front door of his home in response to a domestic disturbance call.  A third officer was also injured in the gunfire, however those injuries are not believe to be life threatening.  After shooting the officers, Felix barricaded himself in his home and reportedly continued to exchange gunfire with responding officers for a time.  Then the incident turned into a lengthly standoff.
"Today Palm Springs lost two of its brave officers," Police Chief Bryan Reyes said, during what the LA Times described as an emotional press conference.  "They go out every day with their boots on the ground. They gave their all for you."
During the press conference, Reyes told reporters Officer Vega was a 35-year veteran who planned to retire at the end of the year and Officer Zerebny was a 27-year-old who had just returned to duty after giving birth four months ago.
Several witnesses who spoke to reporters about the incident described the chaotic scene.
Frances Serrano lives directly across the street from Felix's home said the father came running towards her home around noon on Saturday.
"He said, "Help. I need help. My son is in the house, and he's crazy. He has a gun. He's ready to shoot all the police,' " Serrano told reporters, according to the LA Times.
After hearing gunshots ring out, Serrano said she saw "police everywhere … I looked out the window and saw police with rifles."
The investigation into the incident has now been handed over to the Riverside Sheriff's Department and Felix is currently being held at the Riverside County Jail.
Have a tip we should know? [email protected]