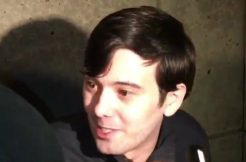 Martin Shkreli, the 34-year-old former CEO of Turing Pharmaceuticals and occasionally the "most hated man in America," or simply "pharma bro," for short, may be running low on funds as his trial for securities fraud draws near.
Yesterday, Shkreli asked the judge overseeing his case for a $3 million discount on his $5 million bail so that he can afford to pay various bills, including legal fees.
In a letter sent to U.S. District Judge Kiyo Matsumoto of the Eastern District of New York, Shkreli's criminal defense lawyer Benjamin Brafman explained that lowering his client's bail would allow Shkreli to access an additional $3 million in cash that is currently sitting in an E-Trade account. The June 15 letter states, in part:
"Today, the majority of Mr. Shkreli's assets are illiquid…Although Mr. Shkreli is still worth a lot of money due to his ownership interest in Turing, that interest cannot be currently sold, nor can it be pledged…We believe that $2,000,000 is more than sufficient to secure Mr. Shkreli's continued appearance in this case."
So far, Shkreli's request for a break on his bail has not been honored, however federal prosecutors oppose the steep discount, according to Brafman, Bloomberg reports.
Initially acquiring the pharma bro moniker after raising the price of an AIDS drug from $13.50 per pill to $750 per pill, Shkreli was quickly hit with charges of defrauding investors once he garnered the national spotlight. He also publicly feuded with Hip-hop artist Ghostface Killah after purchasing a $2 million, one-of-a-kind album by the Wu-Tang Clan–on which the legendary rapper appears.
Shkreli's trial begins later this month.
[image via ABC10]
Follow Colin Kalmbacher on Twitter: @colinkalmbacher
Have a tip we should know? [email protected]