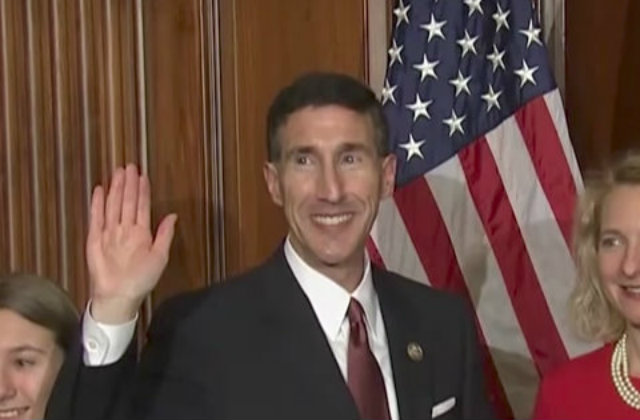 A Tennessee woman was arrested Monday after she allegedly tried to run a GOP lawmaker off the road for his vote on an Obamacare replacement. Wendi L. Wright faces one count of felony reckless endangerment, the Weakley County Sheriff's Department said.
Congressman David Kustoff (R-Tennessee) had been driving with aide Marianne Dunavant after leaving a town hall meting at the University of Tennessee at Martin. Wright allegedly followed them, and made them afraid that she'd force them off the road. The duo pulled over into the driveway of someone they knew, but Wright trailed them, the Sheriff's Office said.
"Wright exited her vehicle and began screaming and striking the windows of their vehicle and at one point reached inside their vehicle," authorities said. "She then stood in front of their vehicle in an attempt to keep them blocked in."
Wright allegedly left the scene before deputies arrived, and was later captured after supposedly writing about the incident on Facebook.
A Sheriff's official suggested to BuzzFeed that she did it because she was displeased with the Congressman's recent vote in support of the American Health Care Act. Sgt. Marty Plunk said that according to eyewitnesses, Wright cursed a lot at the congressman, but witnesses largely couldn't understand what she was saying.
"I've been led to believe she was upset over a vote he had cast involving health care," Plunk said.
The House of Representatives recently and narrowly passed the American Health Care Act, a long-promised repeal and replacement of the American Care Act (Obamacare). Critics, usually Democrats and even some moderate Republicans, says it removes too many protections for people with pre-existing conditions.
Kustoff defended his vote in a May 4 statement citing problems with the Tennessee individual market, and rising health care premiums.
We've reached out to his office for comment.
[Screengrab of Kustoff's January swearing-in ceremony via C-SPAN3]
Have a tip we should know? [email protected]