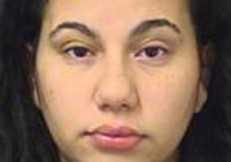 A woman allegedly took off her pants before stealing a truck Saturday. No, this story won't make much more sense once you've read it.
See, a city employee left his truck running while he stepped out, and placed flags in preparation for a West Palm Beach market (no surprise, this story happened in Florida). 9am, right in the middle of the morning. Then reportedly pant-less Amara Korin Marrero, 24, allegedly saw the truck, noted the open door, and took that sucker for a joy ride.
Slowly, southbound, on the sidewalk, according to police. The city employee ran after the vehicle, and managed to hop in to turn off the engine.
Police said they found Marrero's pants in nearby bushes. (Why the bushes?) No, she did not have a driver's license, according to them. She reportedly smelled like booze and wasn't aware of her surroundings, unable to answer any questions put to her by investigators at the scene.
They hit her with charges of grand theft auto, driving without a valid license, and driving under the influence. As of Tuesday, she was sitting in the Palm Beach County jail, facing a $15,000 bail.
[h/t Palm Beach Post]
–
>> Follow Alberto Luperon on Twitter (@Alberto Luperon)
Have a tip we should know? [email protected]