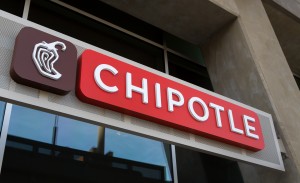 Well, it happened. Chipotle got sued Tuesday as part of a federak class-action lawsuit. The plaintiffs, who seek unspecified damages, say the tasty burrito company tried to cover up the August norovirus outbreak that hit at least 234 people who ate at a Simi Valley, California location. They are six children and one adult who got sick.
Their lawyers suggest a kitchen manager was the source of what's called the "winter vomiting bug." This manager allegedly went to work Aug. 18 with gastrointestinal symptoms, and kept handling food as usual (ew) until he was diagnosed with norovirus Aug. 20.
Chipotle learned about it, and closed that location to do damage control, but the suit alleges the company didn't tell officials about the illness ASAP.
"Chipotle chose instead to try and conceal all evidence of the outbreak by disposing of all food items, bleaching all cooking and food handling surfaces and replacing its sick employees with replacement employees from other restaurants before notifying county health officials of the outbreak," the suit states.
Company spokesperson Chris Arnold pretty much zipped his mouth when contacted by NBC Chicago. "As a matter of policy, we do not discuss details surrounding pending legal actions." But he did insist that his company "took all appropriate actions when this incident began, including reporting it to health officials in Ventura County."
Chipotle has been rocked by health scandals this past year. There was the E. coli outbreak in Minnesota. More E. coli linked to a Kansas location and New York. Then there was the December norovirus outbreak in Boston, which led to another lawsuit from the mother of a kid who got sick.
And no, the cavalcade of awful doesn't end there. The Feds are investigating the company for the Simi Valley outbreak. Yup, that means potential criminal charges.
Chipotle is obviously in panic mode here. They're planning a Feb. 8 "safety meeting," closing all their locations from 11am to 3pm so employees learn more about the outbreaks, and to make sure they understand the new food-handling policies.
[h/t NBC Chicago, image via Shutterstock]
Update — Jan. 20, 2:29 p.m. EST: LawNewz.com attained a copy of the lawsuit. You can read it here.
–
>> Follow Alberto Luperon on Twitter (@Alberto Luperon)
Have a tip we should know? [email protected]