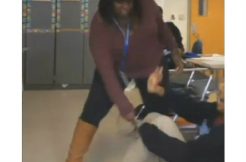 Cell phone video shows a teacher whipping a student with what was reportedly an electric cord. Now that person lost her job with the East Baton Rouge Parish School System in Louisiana.
Mother Sundari Wallace told WAFB told her that on December 1, her 12-year-old daughter showed her a recording of the incident. She said the girl had gotten into an argument with the teacher, but:
"Another student told my daughter to watch out," she said. "By the time my daughter got up out of the desk to run, she slipped and fell, and that's when the teacher started hitting her."
WATCH:
WAFB 9 News Baton Rouge, Louisiana News, Weather, Sports
As seen on video, the teacher hit the girl with an apparent electric cord, and this left bruises on her legs, the mother said. Wallace brought the video to the school on Monday. We reached out to the EBRP School System about the teacher, who remains unidentified. They said they did get the video in which the woman "appears to be striking a student," and immediately put her on paid administrative leave while they investigated.
"The incident has also been reported to the Department of Children and Family Services and appropriate law enforcement officials," they wrote. "The faculty member in questions is no longer employed by the East Baton Rouge Parish School System."
[Screengrab via cell phone footage]
Have a tip we should know? [email protected]