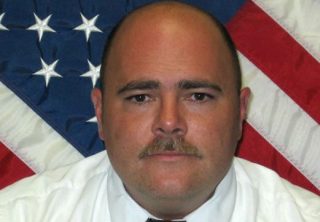 A grand jury in Georgia decided that a police officer who responded to the wrong house and shot a man did not commit a crime. The victim's family is upset that his wife, the sole civilian witness, didn't get to testify, WSB-TV reported.
Officers received a report on June 7 of a woman screaming at a home in Henry County, Georgia. The caller mentioned that she had called about domestic incidents at the same house in the past. According to the Georgia Bureau of Investigation, police went to the wrong house, arriving just after 11pm. The noise drew out homeowner David Powell, who opened his garage door, armed with a gun. When the door opened, an officer shot him. Powell later died from the gunshot.
Police didn't reveal the identity of the officer who fired the fatal shot, Sgt. Patrick Snook, until days later.
Police reportedly had a different story than Powell's wife Sharon. Officers said that Powell did not obey their commands to drop his weapon. Sharon Powell says police never even identified themselves before Sgt. Snook shot her husband.
Powell was never called to testify before the grand jury, and family attorney Keith Martin doesn't know why. "Sharon Powell was the only non-law enforcement witness to this whole thing," he said to WSB-TV. Martin said that Powell has a "compelling account" of what took place that night. "Anybody seeking the complete discoverable truth would call her," he said.
Have a tip we should know? [email protected]