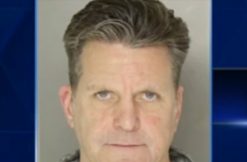 Police arrested Jeffrey Burgess for allegedly attacking an Indian man at a restaurant in Pittsburgh, Pennsylvania. And according to the report, he did it because he thought his victim was Middle Eastern and Muslim.
Here's how it happened, according to the criminal complaint obtained by WTAE. There Burgess was, sitting next to Ankur Mehta at a Red Robin. He reportedly starring mouthing off at Mehta, making racial slurs, and saying "things are different now."
"I don't want you sitting next to me," Burgess allegedly said. "You people."
Mehta was reportedly wearing earbuds, so he didn't hear the threats. Witnesses told people he didn't even notice the suspect's behavior until he started getting elbow and punched.
Cops said that Burgess smelled of alcohol, and his speech was slurred.
The Pittsburgh chapter of the Council on American-Islamic Relations told WPXI that he used slurs like "sand n-word," and "[blank] Muslim." They're commenting on this case even though Mehta isn't Muslim because of the reported uptick in Islamophobic hate crimes they attribute to the November 8 general election.
"We really respect the police, and we are appreciative that the police responded in a timely fashion and they were able to bring order to this situation," President Safdar Khwaja said.
Burgess, 54, faces counts of ethnic intimidation, simple assault, harassment, and public drunkenness.
[Mugshot via Pittsburgh Police Department and WTAE]
Have a tip we should know? [email protected]