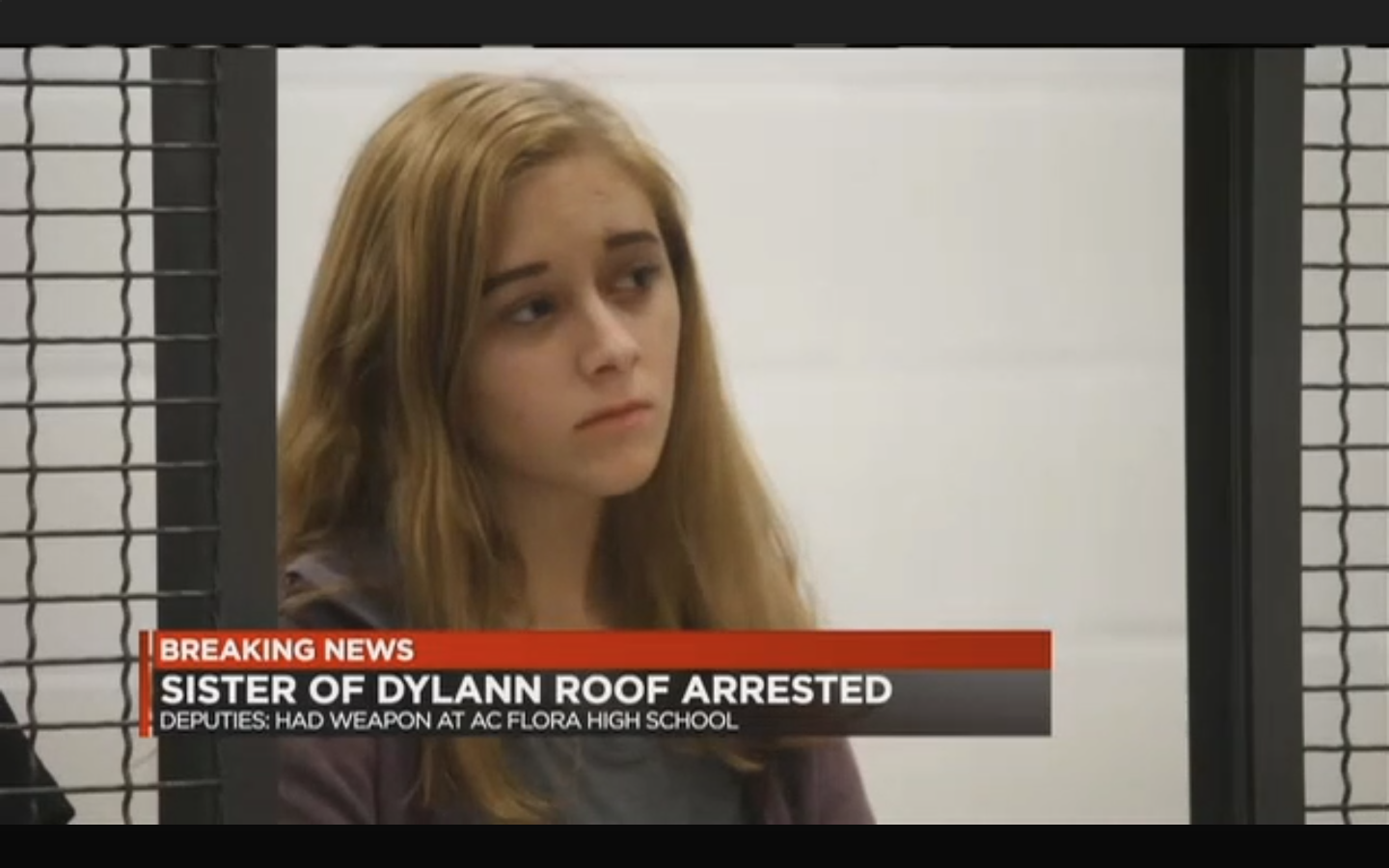 The younger sister of Charleston church shooter Dylann Roof was arrested for allegedly bringing weapons to school on Wednesday–the same day of the first National Student Walkout against gun violence.
Morgan Roof, 18, was arrested on weapons possession charges as well as simple marijuana possession, after being discovered with a knife and pepper spray on her, according to the Richland County Sheriff's Department ("RCSD").
Authorities and other students at A.C. Flora High School in Forest Acres, South Carolina were initially alarmed by a Snapchat message Roof sent voicing anger and displeasure over the National Student Walkout. In that post, she wrote:
Your [sic] walking out for the allowed time of 17min, They are letting you do this, nothing is going to change what tf you think it's gonna do? I hope it's a trap and y'all get shot we know it's fixing to be nothing but black people walkin out anyway.
This is Morgan Roof, Dylann Roofs little sister, her snapchats there and all do your thang twitter pic.twitter.com/MttSF875is

— tatianna (@theonlytyy) March 14, 2018
Roof's Snapchat post was quickly shared across social media and she was eventually arrested.
After being taken into custody by a school resource officer and then transferred to the RCSD, Roof was sent to the Alvin S. Glenn Detention Center. There, she was released after posting a $5,000 cash bond.
According to local NBC affiliate WIS-TV Columbia, one of the conditions of Roof's bond is that she not return to her high school pending a court appearance scheduled for April 23.
A.C. Flora High School's principal, Susan Childs, posted a letter online to address students and parents concerns. That letter reads, in part: "In a separate situation, a student used social media to post a hateful message. The posting was not a threat, but was extremely inappropriate. That student was dealt with in a swift and severe manner as the posting caused quite a disruption."
[image via screengrab/WIS-TV Columbia]
Follow Colin Kalmbacher on Twitter: @colinkalmbacher
Have a tip we should know? [email protected]