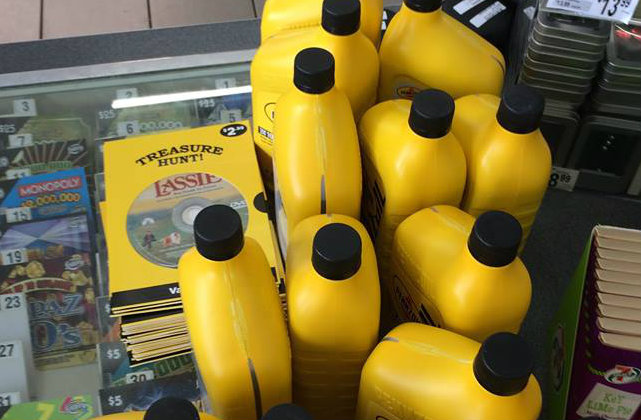 If nothing else, this shows ambition. The Polk County Sheriff's Office claims a Florida man tried to steal 15 Pennzoil bottles and 30 DVDs by shoving them into his pants.
William Jason Hall walked into a 7-Eleven store on Thursday afternoon, they said. He allegedly went into the first aisle and hid 15 motor oil bottles in his "baggy blue jeans."
By the way, he allegedly did all this while a sheriff's office detective was sitting in a patrol car in the parking lot. The official could see everything Hall did, the statement said.
"Mr. Hall then dropped several movies from the shelf onto the floor, bent down, stacked the movies on top of one another, picked them up, and slid them down into his pants too," the sheriff's statement said.
The detective arrested him outside the store. A picture provided by the Sheriff's Office shows that at least one movie starred Lassie.
Hall was booked on felony petit theft. Normally it would be a misdemeanor, but he has been convicted twice before for the same crime, which led to the upgraded charge. Records obtained by LawNewz.com shows that Hall has lengthy criminal record, with over a dozen arrests dating back to 1998. If convicted after Thursday's arrest, he could spend up to five years in prison. It is unclear if he has legal representation at this time.
[Image via Polk County Sheriff's Office]
Have a tip we should know? [email protected]