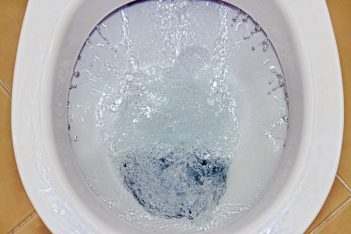 A former elementary school librarian has filed a lawsuit against her ex-employer over injuries she allegedly suffered injuries after a toilet exploded inside a school bathroom.
The Tampa Bay Times obtained a copy of the lawsuit that claims former librarian Anne Burson was working on the library at the Tarpon Springs Fundamental Elementary School in November 2012 when the school began experiencing water pressure issues. According to the lawsuit, a member of the city maintenance crew came out to work on the water lines in an effort to resolve a water pressure issue at the school.
While the maintenance crew member was working on the issues, Burson claims she heard a loud noise and immediately checked inside the bathroom t0 find a toilet had exploded.  The lawsuit describes pieces of porcelain scattered all over the bathroom floor.
Burson claims she immediately informed the maintenance worker, but he just cleaned it all up and alleged assured her she had nothing to worry about.
A few hours later, Burson claims she went to use the restroom and flushed the toilet like normal.  She claims she then went to wash her hands when the toilet suddenly exploded again, shooting out shards of porcelain that struck her legs.  Her lawsuit claims she suffered a "severe contusion to her leg which has resulted in a dark, gouging scar."
The lawsuit only brings claims against the city, not the district.  A lawyer presenting the city told the newspaper the city was aware of the claims but had not been served with a complaint.
[image via Milkovasa/shutterstock]
Have a tip we should know? [email protected]