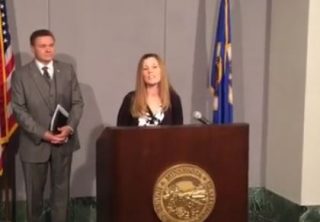 A mother is suing after her 17-year-old transgender child received hormone treatment to transition from male to female without her consent. Anmarie Calgaro claims that her parental rights were taken away from her when her child, whom she continues to refer to as her son, was able to undergo procedures despite still being a minor.
"I was not consulted or informed about this in any way," Calgaro said at a press conference.
Minnesota, where Calgaro is from, does not have any statutes regarding the process of the general emancipation of minors, but it does have a law allowing emancipation for medical purposes. Minnesota Statute § 144.341 says:
Notwithstanding any other provision of law, any minor who is living separate and apart from parents or legal guardian, whether with or without the consent of a parent or guardian and regardless of the duration of such separate residence, and who is managing personal financial affairs, regardless of the source or extent of the minor's income, may give effective consent to personal medical, dental, mental and other health services, and the consent of no other person is required.
Calgaro is now suing her child, identified in court documents as J.D.K., the county, and various officials. She claims in her complaint that Minnesota's law effectively deprives her of her parental rights without due process, and says that all medical treatment without her consent should stop until she has an opportunity to go to court and "petition to restore all or partial parental rights or until a state court order of emancipation is issued."
The 17-year-old received a letter from Mid-Minnesota Legal Aid in June 2015, saying that he is legally emancipated because, among other reasons, Calgaro "has made it known to him that she no longer wishes to have any contact with him," and that he "has been financially supporting himself." The Legal Aid attorney cited Minnesota case law to back up this determination. However, J.D.K.'s application for a name change was denied two months earlier by the state's district court, due to lack of any guardian's permission or any court decision granting emancipation.
The complaint did, however, include a doctor's letter saying that J.D.K. has had "appropriate, permanent clinical treatment for gender transition to the new female gender," and calling for all of J.D.K.'s official legal documentation and identification to reflect this.
Have a tip we should know? [email protected]