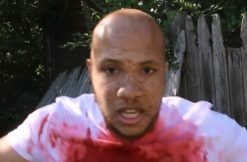 Turns out, Chicago Public Schools won't have anything to do with the deadliest mass shooting in U.S. history. A spokesman confirmed to The Windy City Times on Friday that they've canceled "The Room: A Journey to Hell." The Christian-themed event, slated for October 29 and 30 at Fernwood Elementary, depicted the Pulse nightclub massacre in Orlando, Florida, where Omar Mateen killed 49 and wounded 53 people. Most, if not all, victims were LGBT.
No, really, here's a Facebook post from head event organizer Tyrone Tappler.
(It also states that the haunted house would depict the 2015 Charleston church shooting, another mass murder where nine black churchgoers died. Dylann Roof has been charged in their deaths, reportedly motivated by racism.)
"The event organizers mischaracterized the true content of the event, and we did not approve any association with the activities the organizers have now advertised," CPS spokesman Michael Passman told the Times in a Friday email. "The event will not be held on CPS property."
"Nat," who spoke to the outlet on condition that their full name not be used, said they saw a flyer for the haunted house at a restaurant, and found it interesting at first. "But when I saw Pulse was mentioned, my head just about blew up. How could they depict that?" Nat suggested that the event had an anti-LGBT bias.
We reached out to Tappler for clarification, and what he and other organizers sought to accomplish by referencing the Pulse nightclub shooting. He referenced no rescheduling plans when he announced that the haunted house got "banned."
[Screengrab of Tyrone Tappler via his Facebook page]
–
Follow Alberto on Twitter (@Alberto Luperon)
Have a tip we should know? [email protected]