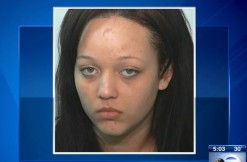 Its a unique kind of self-defense claim. Alisha Walker, 22, an admitted prostitute, claims she had to kill an overly amorous john after he made some not-so-safe sex requests.
Tuesday she went on trial for the first-degree murder of Brother Rice High School Teacher Alan Filan, 61. She spoke at length to the police and that interrogation tape is now a critical piece of evidence against her.
In the tape, played for jurors, Walker said she and another woman went to Filan's home on Jan. 18, 2014 when he hired them for sex on Backpage.com, which is basically like a sleazier Craigslist. Walker who admitted she was engaged in the world's oldest profession, described Filan as "a really good trick," and, uh, worked with him on two previous occasions. The older man gave her at least $500 both times.
But she said Filan became enraged when the second woman didn't look as good as he apparently expected. They eventually bargained down to $300 for a half hour, but the women then rejected him when he said he wanted sex without a condom, according to her attorney, Patrick O'Byrne, in opening statements. It got ugly when the reported john snatched back the cash. Then it all really came to a head.
"You stupid b—h," Walker, reported Filan saying. She alleged there was pushing, shoving. Punches to her face. He grabbed her arm.
"He was cussing me out the whole time," Walker said on the interrogation tape. She said he came at her with a kitchen knife, which she tore from him and used against him. "I don't' know how many times I hit him. I just know there was blood on the ground."
Walker and the woman bolted from the scene. Filan's body was discovered by police several days later after he didn't show up for work. There were over a dozen stab wounds on his body. At a press conference, John Dillon, a Cook County Assistant State's Attorney, said cops found bloody footprints, apparently from high heels, trailing between Filan's body and the front door.
Police soon dragged Walker and the other woman back to Illinois from Indiana. She had a blood-stained $50 bill, blood on her jeans, and blood on her boots. You get the picture, there was a lot of evidence. She was held without bail. If convicted, she faces up to life in prison.
[h/t Chicago Sun-Times]
[image via screengrab]
–
>> Follow Alberto Luperon on Twitter (@Alberto Luperon)
Have a tip we should know? [email protected]