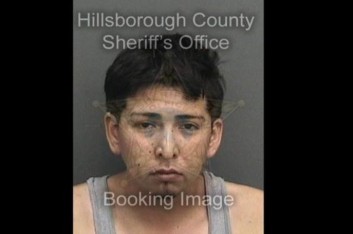 Police in Tampa, FL say a man is dead after he was shot by his cousin in what appears to be a bizarre experiment gone terribly wrong.
Fox13News.com reports the incident occurred late Saturday night when police were called to a home and found Joaquin Mendez outside with a gunshot wound to his chest.  He would die later at a nearby hospital.
Alexandro Garibaldi, Mendez's 24-year-old cousin, allegedly told police officers he found his wounded cousin outside the home.  An unnamed witnesses apparently told officers a much different story, however.
WATCH:
According to police, the witness told them Mendez was wearing a bulletproof vest inside the home when he asked aloud whether the vest "still worked."  As Mendez sat in a chair, the witness said Garibaldi replied, "Let's see," and then fired a gunshot at the vest.
After speaking with the witness, officers say they entered the home and found the vest, with a bullet hole through the chest.
As of Sunday, Garibaldi was being held without bail in the Hillsborough County jail on charges of manslaughter and felon in possession of a firearm.
Have a tip we should know? [email protected]