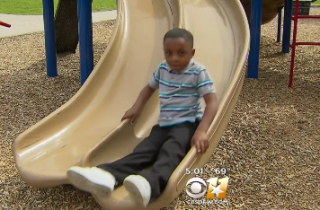 DeSoto, Texas is one of the few school districts in the state that allows corporal punishment if they have the parents' consent. But the mother of a 5-year-old says that a kindergarten teacher at Meadows Elementary did not have permission when she struck her son with a wooden object, according to the local CBS affiliate.
The teacher, whose name has not been released, allegedly paddled the boy's hands after another student accused him of sticking his tongue out behind her back. The child's mother, Ayanna Smith, says the teacher didn't even witness the action.
Meadows Elementary says it requires verbal and written consent to allow teachers to use physical force against students. On a form that asks parents if they permit this brand of discipline, Smith said no. "Any time you take a child into a room, hold their hands down, and beat them with a wooden object, it is assault!" she said.
Smith complained to the school district, who said they would not discipline the teacher. The Smiths are now removing their son from the school.
[h/t Rare News, image via screengrab]
Have a tip we should know? [email protected]