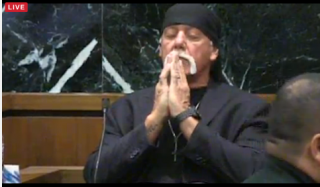 Watching the fascinating, graphic and often embarrassing testimony of Hulk Hogan (aka Terry Bollea) in his lawsuit against Gawker, I couldn't help wonder, how the heck did this case not settle? Hogan has been forced to explain everything from allowing a camera crew to film him on the toilet, to the exaggerated number of women he has slept with, to the actual, as opposed to alleged, size of his "lochness monster." Legally, all of these matters "of public concern" relate to Gawker's defense that they were permitted to run a clip of a leaked sex tape starring the Hulkster because he had publicly discussed details of his sex life, thereby making the tape "newsworthy."
But there is a reason this is the first case to ever go to trial over a celebrity sex tape.
Sure, part of it relates to the subject matter but the other, arguably more salient factor is money. Taking a lawsuit like this to trial is enormously, sometimes prohibitively, expensive for both sides. This one in particular, has been a legal fee fiesta for almost four years with numerous complex issues litigated in multiple venues both federal and state. I wouldn't be surprised if at the end of this trial the costs were roughly $3 million. Each. That includes pricey experts travel and overpriced (but seemingly excellent) attorneys. And that is before any possible appeal.
Furthermore, many of the legal rulings were in Gawker's favor which leads me to ask again, why wouldn't Hogan want to settle? There were multiple mediation/settlement discussions and Gawker must have offered to pay significant damages (neither side would discuss numbers). After all, Gawker's insurance isn't covering the costs and many have described it as a potentially existential crisis for Gawker Media. Its founder Nick Denton has even admitted this case could literally put them out of business.  In fact, this suit forced Denton to take the draconian measure of raising money, for the first time, just to help fund the defense and any possible judgment. So the incentives were beyond compelling for Gawker to settle even at an unfair price.
So why would Hogan reject what must have been multi-million dollar offers? Please don't suggest that Hulk Hogan felt the privacy and legal issues involved were too significant to avoid a public trial. Please. Don't.
More importantly, what happens if Hogan loses? Who pays his side's enormous fees? I have reached out to his team three times for comment on this issue and have not received a response.
But there are three options:
1) He foots the bill.
This is beyond unlikely since he has publicly discussed his various financial woes including that his wife won 70% of the assets that remained in 2011, leaving him with about $3 million in cash. Since then, he was fired by the WWE after a racist rant from 2007 emerged. This is not to suggest he is a pauper, but it is nearly impossible to believe he has the money needed to fund a case like this one.
2) His attorneys are covering all of the costs as part of a contingency fee agreement. In that case, they would take all the financial risk in exchange for a large percentage (typically 33 to 50%) of the judgment. But this too doesn't explain how this case moved forward to trial. Not only has Gawker won many of the legal battles, but the Florida Appeals Court has expressed some sympathy for Gawker's legal position. So even if Hogan wins a big verdict, which he very well may from the jury, most legal experts agree that the appeals court would at the least, reduce it significantly as they do in many cases involving media defendants.
Sure, its an interesting, high profile case, but Hogan's attorneys have to know it's a huge, almost reckless, financial risk to bet everything on the amount that they will take home in this case. Which brings me to the third and maybe most tantalizing possibility. . .
3) Gawker has long been one of the most detested and despised media entities in the country. Particularly by the rich and powerful. So what if someone was encouraging Hogan and his attorneys not to settle. What if said person wanted to see Gawker suffer even at significant cost to him/her?  We received a tip that certain Tampa lawyers believe a benefactor agreed to cover Hogan's legal fees in some capacity. I have no idea if it's true but it sure would explain a lot of the seemingly inexplicable in this already bizarre case. Regardless, listening to Hogan testify served as a reminder of why juries have never experienced the pleasure of hearing sizzling details in any of the other steamy cases.
We will update this story if and when we receive a response from Hogan's representatives.
Have a tip we should know? [email protected]
Dan Abrams - CEO and Founder