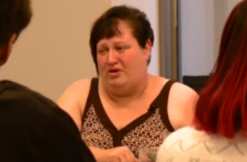 Brandi Meadows' daughter has been accused of killing her husband, Jonathan Meadows in Warren, Ohio. This is what she had to say about the 14-year-old girl.
"She is my hero," she told Fox 8 in a Thursday report. "I wasn't strong enough to get out and she helped me."
Brandi said Jonathan was abusive. As the girl's attorney, Ian Friedman, put it, Mr. Meadows routinely intimidated the family, including the girl's sisters, with a gun, and there were "constant beatings." An aunt, Cleveland police officer Martina Latessa, said the girl's life was a "nightmare" from the day she was born. Brandi said she was too scared to end the marriage.
WKBN reports that Jonathan was arrested for domestic violence in 2011, but Brandi later dropped the charge.
Things reportedly got so bad the girl ran away from home to Latessa's house. They went to authorities for help. The Warren Police Department. The Trumbull County Department of Job and Family Services.
Then it happened on July 28. The girl allegedly shot and killed her father with his own gun at their Warren, Ohio home.
"She wanted to protect her mom," Friedman told Fox 8.
Now she faces aggravated murder charges, but the family has started a Go Fund Me page to fund her defense.
We've reached out to the Trumbull County prosecutor's office, and will update if we get a response.
In Ohio, adults convicted of aggravated murder can be sentenced to either death, or life without parole. But the girl is a juvenile, so she'll be subject to neither even if she gets tried as an adult.
[Screengrab of Brandi Meadows via Fox 8]
–
Follow Alberto Luperon on Twitter (@Alberto Luperon)
Have a tip we should know? [email protected]