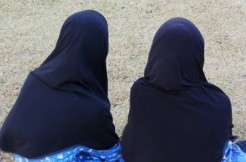 On Friday, a North Carolina man plead guilty to tearing off a Muslim woman's hijab during a plane flight. Charged with religious obstruction, Gill Parker Payne faces up to one year in prison, and a possible fine of $100,000, according to a Department of Justice court filing. He might even get probation, too.
Payne and the woman, identified as "K.A." were on a plane ride from Chicago to Albuquerque on December 11, according to the statement. He was sitting a few rows behind her.
"Shortly before landing, but while still-in flight, I stood up in the aisle and walked toward where K.A. was sitting in the aisle," his plea document reads. He admitted to telling her to take off her hijab, "stating something to the effect of, 'Take it off! This is America!'"
He admitted to pulling off K.A.'s hijab, and that "I intentionally obstructed K.A.'s free exercise of her religious beliefs."
Payne and federal prosecutors are recommending two months of house arrest as punishment enough. His sentencing hearing is still pending, though, and the plea agreement must be approved by a judge.
[image via Netnapha Buaban / Shutterstock.com]
–
Follow Alberto Luperon on Twitter (@Alberto Luperon)
Have a tip we should know? [email protected]