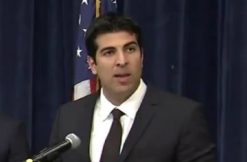 A California assemblyman wants a new law after one savage beating didn't lead to charges for the alleged conspirator who recorded it and published it to Snapchat.
High school student Jordan Peisner was reportedly assaulted in 2016—sucker punched outside a fast food restaurant by a teen he didn't know. He sustained permanent hearing loss from a ruptured ear drum according to media reports, not to mention a skull fracture, concussion, and a 14-millimeter blood clot on his brain. And yet, according to Assemblymember Matt Dababneh (D-Encino), it didn't lead to charges for the teen who recorded it.
Now Dababneh has introduced what he calls "Jordan's Law," aka Assembly Bill 1542. He co-authored it with colleague Jim Cooper (D-Elk Grove). The idea is to target conspirators who record violent crimes.
"In the day and age where our kids are constantly using social media, it is more important than ever that we protect our children from violent crimes motivated by the need for attention on the internet," Cooper said in a statement.
[Screengrab of Dababneh via KABC]
Have a tip we should know? [email protected]