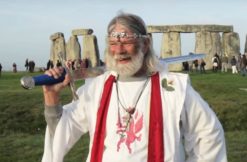 King Arthur's battle with a charity is going to court.
Arthur Pendragon, the head of a local neo-Druid organization, is suing English Heritage and police in Salsbury, Wiltshire over a £15 parking fee, according to a report by Metro. See, EH is a charity that owns Stonehenge. Pendragon (birth name: John Timothy Rothwell) said his and his people are getting picked on because of their religion.
That's because local parking fees rose £10 during a summer solstice religious event on July 21. To sum up a complicated topic, Druidism is pretty much nature worship (and features way fewer institutions and less centralization than Abrahamic religions). Stonehenge, being from a pre-Christian England, is a popular site of worship.
Pendragon told Metro:
We wouldn't even mind if it was a bit fairer, but charging tourists £5 and pilgrims £15 is not right – we are being penalised for going there to worship. I'm fighting this all by myself. I've got no solicitors or barristers to help me. I will pursue it through the courts in whatever which way I can. I will not go quietly into night because this is a matter of religious freedom. You wouldn't charge people to go to a church, mosque or synagogue, and if you did there would be a riot. They are doing this because we are a minority religion. We want assurances for the future. Nobody should be made to pay to attend the summer solstice and worship. It is just an avaricious way of ripping off not only tourists, but also pilgrims. And it is getting ridiculous.
He called the price hike "pay to pray," and said he refused to shell out. This reportedly got him kicked out from Stonehenge.
"It would be inappropriate to comment on the matter at this time," English Heritage PR Manager Phil Harper told LawNewz.com in a statement. "Sorry I can't provide any more information."
Pendragon runs The Loyal Arthurian Warband. He's clashed with local authorities and organizations for years. In the 1990s, he sued in the European Court of Human Rights to open up Stonehenge for religious events. That failed, but separate ruling by the House of Lords opened the land up to greater public access. The druids walked right in. He also pushed to have millennia-old remains reburied in Stonehenge.
And you're probably wondering why Pendragon goes by that name. From his organization's website.
After diverse adventures and life experiences, it was in 1986 that he reverted to his once true and former name of Arthur Uther Pendragon. By Beltane of 1990 he had been hailed as the once and future king, Rex Quondam Rexque Futuris, and raised Honoured Pendragon, Glastonbury Order of Druids.
As of press time, LawNewz.com has been unable to independently confirm if he is, in fact, the same Arthur Pendragon of mythology: King of Britain, son of Uther Pendragon, husband of Guinevere, wielder of the legendary sword Excalibur, leader of the Knights of the Round Table, instigator of the search for the Holy Grail, and slayer of his nephew (and alleged son) Mordred at the Battle of Camlann. We will update if we find more information.
[screengrab via Dancing Turtle Films]
Update – September 30, 8:21 a.m.: We've updated this article with a brief statement from English Heritage.
–
Follow Alberto Luperon on Twitter (@Alberto Luperon)
Have a tip we should know? [email protected]