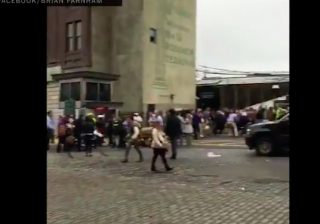 Someone is getting blamed for today's deadly train accident in Hoboken, New Jersey. And by "someone," I mean "Congress." As it turns out, the rail travel industry has long been working on implementing technology that could well have prevented accidents like the one today. "Positive Train Control" ("PTC") is, according to Union Pacific Railroad, "a set of highly advanced technologies designed to make freight rail transportation—already one of the safest U.S. industries—even safer by automatically stopping a train before certain types of accidents occur." In particular, PTC is designed to prevent:
Train-to-train collisions
Derailments caused by excessive train speed
Train movements through misaligned track switches
Unauthorized train entry into work zones.
In 2008, shortly after a commuter rail crash in California, railroad safety caught Congress' attention. It then passed the Surface Transportation Reauthorization and Reform (STRR) Act of 2015, which required most railroads to finance, develop, install, and test PTC by December 31, 2015, or risk losing highway funding. The railroad industry was not pleased.
On its website, Union Pacific Railroad calls the deadline "arbitrary and unworkable" and prior to 2015, advised Congress that it would not be able to meet the deadline.  Union Pacific goes on to state, "as the deadline approached, railroads and freight rail customers made it clear that there would be serious consequences for the nation if the deadline was not extended." Or in other words, Union Pacific and other railroads lobbied Congress to get the deadline extended. In October 2015, just a few months prior to the deadline, House and Senate lawmakers who had been arguing over just how to handle the apparently "unworkable" PTC deadline agreed to extend it for another three years, to 2018.   Extending the deadline was likely the best compromise Congress could make for itself; it satisfied the rail travel industry by allowing it a lot more time, and it satisfied constituents by allowing Congress to take credit for raising safety standards.
Critics have argued that the extension to the STRR puts lives at risk, and I'd bet those critics are finding their way to microphones right about now. In 2015, Senator Richard Blumenthal (D-Conn.) said in a statement:
"This five year extension of life-saving technology is way too long, with way too little guarantee that PTC implementation will get done. A short-term patch of highway funding should not be the vehicle for such a profoundly important measure," he continued. "I will work for a reasonable measure that provides adequate time but holds railroads accountable through year-by-year review of progress toward fully-implemented PTC."
Of course, at this point, it's premature to speculate about what whether today's accident might have been prevented if Congress had stuck to its original deadline. According to New Jersey Governor Chris Christie, though, "the one thing we do know is that the train was traveling at a high rate of speed."
I'd say there were actually three things we know: 1) the train was going too fast; 2) PTC prevents trains from going too fast; and 3) Congress backed down on insisting that trains have PTC. It's thirty-nine days before a hotly-contested election, and a commuter train just harmed a lot of people. Congress needs to get to work on its cover story.
[screengrab via New York Times video]
This is an opinion piece. The views expressed in this article are those of just the author.
Elura Nanos - Columnist & Trial Analyst, Law & Crime; CEO Lawyer Up